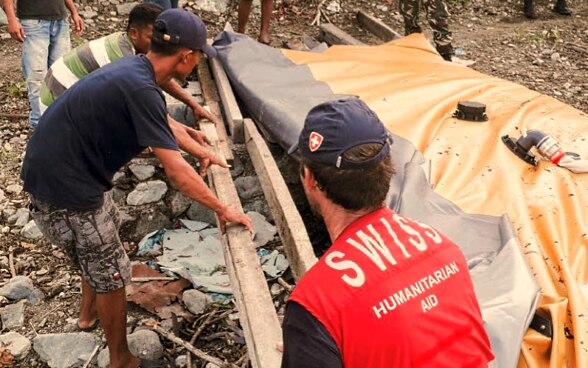 "Water is probably the best example of how Switzerland continues to uphold its humanitarian tradition in a way that meets today's needs," noted the President of the National Council, Marina Carobbio Guscetti, in a speech which also touched on Switzerland's pool of experts who are ready to jump into action whenever a humanitarian crisis occurs. "Nothing embodies the image of humanitarian Switzerland better than the Swiss Humanitarian Aid Unit," said Ms Carobbio Guscetti, adding that Switzerland is not content to simply stand by and watch – it takes action. Manuel Sager, director general of the Swiss Agency for Development and Cooperation (SDC), also highlighted Switzerland's progress and achievements in the area of water supply. "Thanks to Switzerland, some eight million people now have better access to clean drinking water and efficient irrigation systems for agriculture."
Yet some 844 million people worldwide still have no access to safe water supply. Over 2.4 billion people – one third of the world's population – still live without access to proper sanitation and almost 900 million have no choice but to defecate outdoors. Examples from Ukraine, Chad, the Democratic Republic of the Congo and Lebanon gave participants insights into the living conditions of people who suffer from drinking water shortages and lack access to adequate hygiene and sanitation.
Water is never lost

"We should not forget that the world's water is never lost. Water moves through the water cycle, but all too often it is returned to the natural environment untreated or polluted," explained Marc-André Bünzli, a water expert at Swiss Humanitarian Aid. He also gave a hands-on demonstration of water purification sets donated by Switzerland to Ukraine which provide 4,000 litres of drinking water per hour. Epidemics were another topic of discussion. Tom Russel, a water expert at Medair, an NGO, stressed the enormous challenges humanitarian aid organisations face because of the Ebola epidemic. "We have to deal with all sorts of security, logistical, financing and recruitment-related issues, but our biggest challenge remains getting the public on board," said Mr Russell, who is currently working in the Democratic Republic of the Congo.
Finally, Ambassador Manuel Bessler, Federal Council delegate for Swiss Humanitarian Aid and head of the SHA, emphasised Swiss Humanitarian Aid's swift and effective response to Cyclone Idai, which caused devastation across large swathes of south-east Africa in mid-March. "This natural disaster has brought home once again just how destructive water can be and how quickly those affected can be cut off from vital drinking water supplies," noted Mr Bessler. "The Swiss Humanitarian Aid emergency relief operation, which is focused primarily on restoring drinking water supplies in Mozambique, benefited from Switzerland's existing international cooperation resources and instruments and the support provided by its humanitarian partners on the ground."
The Annual Conference of Humanitarian Aid provided a diverse programme for over 1,100 international and national participants, highlighting the various facets of their work. Panel discussions and interviews with humanitarian aid experts and representatives of the business and academic communities explored the opportunities and potential of Switzerland's humanitarian engagement in crisis areas as well as in Switzerland.
---
Further information:
Water in Crisis – Annual Conference of Swiss Humanitarian Aid

---
Address for enquiries:
FDFA Information
Federal Palace West Wing
CH-3003 Bern, Switzerland
Tel.: +41 58 462 31 53
E-mail: info@eda.admin.ch
Twitter: @SwissMFA
---
Publisher: