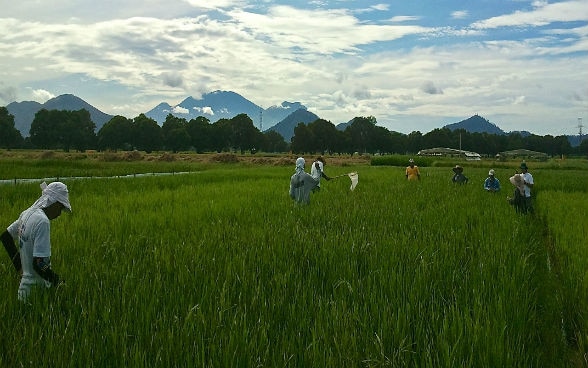 What connects the Swiss Agency for Development and Cooperation (SDC), with Swiss satellite data processing company sarmap, the International Rice Research Institute (IRRI), Asian governmental organisations and reinsurance company SwissRe? Together with other partners, all of them are involved in the innovative RIICE (Remote Sensing-Based Information and Insurance for Crops in Emerging Economies) project, which through its use of cutting-edge technology hopes to revolutionise the information systems on rice cultivation in Cambodia, India, Thailand, the Philippines and Vietnam. The SDC's involvement in this project stems from the fact that it has made food security a priority and believes the long-term nature of the project points the way to the future.
Insurance against rice crop losses is the way forward
More than 3.5 billion people, so almost half the world's population, consume rice every day. 90% of that rice is cultivated in Asia. Production of this important staple food is therefore the livelihood of millions of smallholder farmers throughout Asia. However, there are risks associated with paddy farming.  Flooding, droughts and other natural disasters may lead to devastating crop failures. These can spell financial ruin for hundreds of thousands of smallholders. When disasters of this kind occur, humanitarian organisations launch costly relief operations, but it often takes a long time for the aid to reach those affected. With the aim of providing direct support, the SDC is the main funding source for the RIICE project, which offers more efficient crop insurance for rice smallholder farmers, ensuring they receive financial compensation quickly when crops fail.
Mapping and observing rice-growing areas also helps forecast crop yields
State-of-the-art satellite and sensor technology make it possible to offer better crop insurance in developing countries. Radar waves transmitted from satellites belonging to the European Space Agency (ESA) map the Earth's surface in the parts of Southeast Asia where rice is cultivated. These radar waves scan objects and surfaces whereupon a sensor detects and measures the radiation that is reflected from the target. The great benefit of such wave-based measurement is that, unlike an optical satellite measurement method, it works in all weather conditions. The rice-growing areas can thus not only be mapped, but also observed over an extended period. This in turn makes it easier to estimate future crop yields, providing useful information for insurers.
From aid recipient to customer thanks to crop insurance
The Agricultural Insurance Company of India and the Swiss reinsurance company SwissRe make use of the satellite data to offer such crop insurance. While the insurance guarantees swift payment when crops fail, it also offers a further advantage: in the insurance system the smallholders are not recipients of aid, but normal insurance customers. This also boosts their self-esteem. The farmers can choose to pay their insurance premiums on a weekly, monthly or annual basis, depending on their financial means and preferences.
This project is a good example of what is known as a public-private partnership (PPP, see box below). It demonstrates how cooperation between development cooperation actors, national governments and the private sector can bring about a fundamental improvement in the lives of hundreds of thousands of people. The SDC supports these crop loss insurance schemes in Asia because they pursue an innovative and integrated approach and can be implemented on a large scale. The data generated also help optimise rice yields in the future. In the light of climate change, this is also an important step towards guaranteeing food security in these regions in the years to come.
The SDC not only provides financial support for this project but also plays an active role in implementing it at the national level. It maintains important institutional and political contacts as it is in dialogue with the relevant ministries in these rice-producing countries. It also ensures that the interests of smallholders and the poor are given top priority.