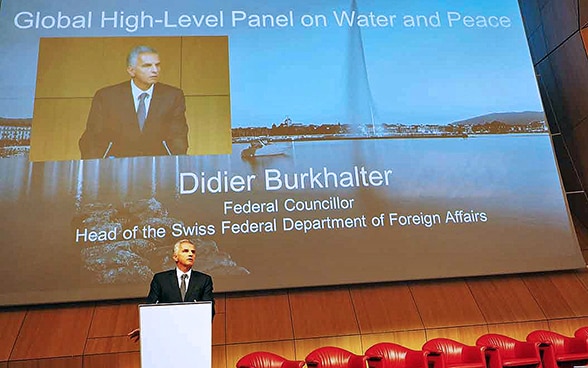 The sustainable management of water resources is one of the global challenges of the 21st century. In its 2015 report on global risks, the World Economic Forum ranked water-related crises as the biggest global risk in terms of impact. This vital resource is facing unprecedented challenges and is increasingly associated with insecurity at local, regional and global levels. Growing tensions over major dams and mining operations are a case in point.
Despite the complexity of the challenges, water can become a topic for cooperation and can be transformed from a source of potential crisis into an instrument of peace. It is with this positive vision that Switzerland is working on global water issues in partnership with several UN organisations, bilateral partners and NGOs, to help prevent water conflicts at an early stage and to promote water as an instrument of peace and cooperation. "Rendering water an effective source of cooperation and security requires a broad range of tools, from development cooperation and humanitarian aid instruments to peace promotion and international law," emphasised Federal Councillor Didier Burkhalter in his speech in Geneva today.
In this context, Switzerland has launched, together with 14 other countries, an independent panel of high-level officials and experts tasked with putting forward concrete recommendations to make water an instrument of peace. The panel's work is expected to take two years. The panel will hold four main sessions on different continents to examine various issues and discuss them with local focus groups (think tanks) working on water and peace. The panel is chaired by Danilo Türk, former President of Slovenia, with the support of the Geneva Water Hub serving at its secretariat, and the Strategic Foresight Group, a think tank based in Mumbai.
At the panel's opening ceremony, the Swiss double bass player Mich Gerber performed the first part of a symphony on the theme of water and peace he is composing. The symphony will be completed by various musicians from regions where the panel will meet. Mich Gerber is also a ferryman on the Aare River, a happy coincidence for a panel that aims to be creative, promote cooperation and bring people together.
This water initiative builds on FDFA commitments. Water management and its impact on security is one of the priorities of Swiss foreign policy.
---
Further information:
Keynote Statement by the Federal Councillor Didier Burkhalter
Water and security - FDFA Lines of Action
Geneva Water Hub

---
Address for enquiries:
Information FDFA
Bundeshaus West
CH-3003 Bern
Tel.: +41 58 462 31 53
Fax: +41 58 464 90 47
E-Mail: info@eda.admin.ch
---
Publisher: