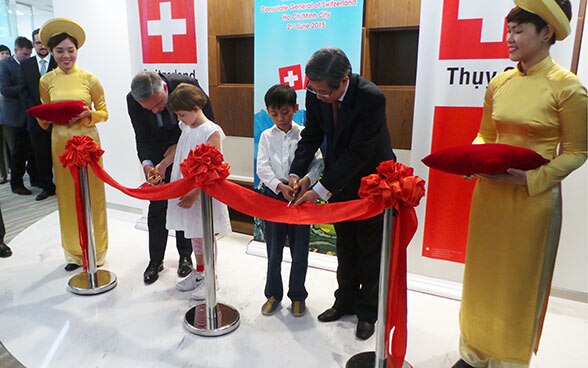 As a clear sign of the strengthened close ties between Switzerland and Vietnam, today Mr Burkhalter opened the new Swiss consulate general in Ho Chi Minh City (formerly Saigon). In his address, Mr Burkhalter said that this new representation showed how firmly Switzerland believed in the strong potential of Vietnam and its people, with the new consulate general holding out the prospect of further expanding the economic ties between the two countries, reflecting one of its key tasks: providing support for Swiss companies in Vietnam. "At the time of the reunification of Vietnam, the Swiss representation in Saigon (Ho Chi Minh City) was closed down. Today we are coming back and heralding the start of a new era in the economic heart of Vietnam. We are building a future together in partnership", said Mr Burkhalter in his speech opening the new representation.
The wide-ranging bilateral relations between Switzerland and Vietnam had also been the focus of Mr Burkhalter's talks with Deputy Prime Minister Hoàng Trung Hải and Minister of Foreign Affairs Phạm Bình Minh in Hanoi on Tuesday morning, which discussed how to increase economic cooperation, following the big growth in trade between the two countries in recent years – an increase of over 30% in 2014 totalling approximately CHF 1.4 billion. During these talks, Mr Burkhalter underscored the significance of the conclusion of a free trade agreement between Vietnam and the European Free Trade Association (EFTA) for further developing trade links. EFTA, of which Switzerland is a member, began negotiating a free trade agreement with Vietnam in 2012. Mr Burkhalter also highlighted the protection of intellectual property rights and the recognition of international arbitration court judgements as key issues for the development of economic ties.
Vocational education and training and cooperation in the area of sustainable development were also discussed. The Swiss Agency for Development and Cooperation (SDC) has been supporting projects in Vietnam since 1992, and since 2008 Vietnam has been a priority country for the State Secretariat for Economic Affairs (SECO). As part of its 2013-2016 cooperation strategy for Vietnam, Switzerland is therefore supporting projects in the agricultural sector, to improve food security, to promote good governance and involve civil society more closely. It also promotes measures providing conditions conducive to broad-based and sustainable growth that can help small and medium-sized enterprises be more productive and competitive and can improve energy efficiency and the use of renewable energies.
Security policy issues
Another key topic of the political talks in Hanoi was regional security in Asia, in particular the situation in the South China Sea, where tensions are mounting. Mr Burkhalter briefed his counterparts on the discussions he had held in the preceding days at the Shangri-La Dialogue security conference in Singapore and the Asian Conference of the Organization for Security and Co-operation in Europe (OSCE) in Seoul. As well as opportunities for promoting regional cooperation and cooperative security in the region, Mr Burkhalter also discussed other security matters with Deputy Prime Minister Hoàng Trung Hải and Minister of Foreign Affairs Phạm Bình Minh, including combating cybercrime and preventing violent extremism. The two sides also agreed to step up their discussions on security issues as part of their regular political consultations.
The human rights situation – itself an element of security and stability – was also broached. A bilateral human rights dialogue is held annually between Switzerland and Vietnam. Furthermore, Mr Burkhalter spoke with Minister of Foreign Affairs Phạm Bình Minh about the UN Convention against Torture, ratified by Vietnam in February 2015, and about the abolition of the death penalty. They agreed that international humanitarian law – an area where Switzerland is campaigning for improved compliance in a joint initiative with the International Committee of the Red Cross (ICRC) – must be further consolidated.
Also discussed was the potential for strengthened cooperation between Switzerland and Asian partners at regional level, including with the Association of Southeast Asian Nations (ASEAN). On 28 May 2015, Switzerland submitted a request to the current ASEAN Chair, Malaysia, to become an ASEAN development partner. Mr Burkhalter gave his colleagues a copy of that letter in Hanoi today. ASEAN's member states are Vietnam, Thailand, Indonesia, Malaysia, the Philippines, Singapore, Brunei, Myanmar, Laos and Cambodia.
---
Further information:
Address by Federal Councillor Didier Burkhalter on the occasion of the opening of the new Swiss consulate general in Ho Chi Minh City
Vietnam country page (FDFA)
Swiss development cooperation in Vietnam (SDC/SECO)
Development cooperation in the Mekong region (SDC)

---
Address for enquiries:
Information FDFA
Bundeshaus West
CH-3003 Bern
Tel.: +41 58 462 31 53
Fax: +41 58 464 90 47
E-Mail: info@eda.admin.ch
---
Publisher: