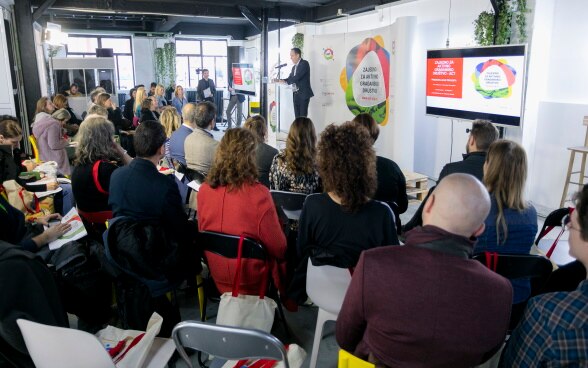 Building a more democratic, transparent and inclusive society that involves civil society in a dialogue on reforms are among the key priorities of Serbia's European integrations. Civil society plays a prominent role in strengthening ties with citizens to enhance their participation in public dialogue on the development reforms and ensure their voices are heard, especially outside Belgrade. With that goal, Switzerland is using its long experience in participative democracy and citizens' participation at the local level to support civil society organisations in Serbia.
Through the Swiss Agency for Development and Cooperation – SDC, the Swiss Government supports the Programme "For an Active Civil Society Together - ACT", implemented by a consortium of HELVETAS Swiss Intercooperation and Civic Initiatives, Belgrade. The goal of the project ACT is to contribute to an active civil society for the benefit of all people and heighten citizens' engagement in decision-making processes, particularly at the local level.
At the opening ceremony held at the House of Activism in Belgrade, H.E. Ambassador Philippe Guex, Ambassador of Switzerland to Serbia and to Montenegro, emphasised the conditions in which the civil sector in Serbia operates:
"We unfortunately live in times where democratic values are being questioned and the space for civil society is shrinking in a number of European countries, including in Serbia. […] In our eyes, these developments make it even more necessary to support civil society as well as to protect the space they are working in."
The results of the survey "Civil society sector in Serbia 2019" ", conducted by IPSOS Strategic Marketing for the needs of the ACT project were also presented at the event. This is the most comprehensive study so far that covered respondents from all over Serbia on 15 most relevant research topics. In addition, the survey also included citizens' opinions on civil society organisations and the extent of their participation in the decision-making processes. The study revealed that only 11% of citizens participated in decision-making at the local level, while only 4% participated at the national level.
"We at Helvetas firmly believe that sustainable, inclusive development only happens were the state, the private sector and civil society listen to each other, cooperate, and develop joint solutions. Governments can only profit from a vibrant, constructive civil society – as an inspirer, counterpart and corrective", said Mr Jens Engeli, Regional Director of Helvetas for Eastern Europe.
The Swiss Government, through the Swiss Agency for Development and Cooperation (SDC), is allocating CHF 5.3 million for the project "For an Active Civil Society Together - ACT" for the period 2019-2023.
Media coverage: