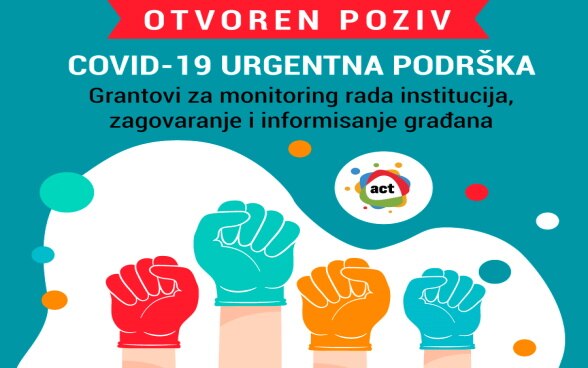 The call is open until 21 December 2020 for civil society organizations, the media and informal groups which will involve the public in activities related to the Covid-19 pandemic through advocacy activities, access to information, public information, and monitoring of the work of institutions. Up to 15 Civil Society Organisations (CSOs), media, and informal groups that have previously undertaken activities related to mitigating the effects of the COVID-19 pandemic will receive from RSD 500,000.00 to RSD 1,800,000.00 each, for projects lasting 6 to 12 months. With the current circumstances in mind, applications will be accepted and processed via a special online platform.
Objective of the call: The projects selected for funding will contribute to greater respect for the rights and information needs of citizens, and greater transparency from institutions regarding their response to the coronavirus pandemic and actions taken to mitigate its consequences. The selected projects will be based on a strong connection with the public, will represent the voice of the community in which they operate, and will present the problems faced by citizens to decision-makers.
In addition to financial support, the selected organizations, media, and informal groups will be provided with mentoring support in the areas of public participation, networking and advocacy activities to better meet the needs of citizens and ensure that their voices are heard.
More information about the call, application process and necessary documentation is available on the  ACT Project website.
The Government of Switzerland is supporting the "For an Active Civil Society Together – ACT" project to the tune of EUR 5.37 million for the period 2019-2023.