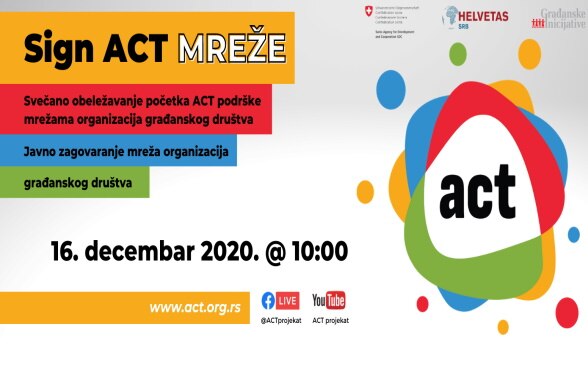 At the beginning of the ceremony, Mr Richard Kohli, Head of Cooperation, Embassy of Switzerland, Mr Jens Engeli, Regional Director of Helvetas Swiss Intercooperation for Eastern Europe, and Ms Bojana Selakovic, program Director of Civic Initiatives emphasized the importance of the networks within civil society in Serbia and wished them successful realization of the projects.
Part of the ceremony also included a Vox Populi segment which gave a voice to citizens. They were asked about the specific problems in society that the networks will address in the coming period. On the basis of the responses from the public, the presenters asked questions of the networks' representatives.
The networks that received awards were the National Coalition for Decentralization, the Network of Organizations for the Children of Serbia - MODS, the National Association of Youth Work Practitioners - NAPOR, Solidarity for the Rights of All, Roma Women's Network of the Republic of Serbia, Umbrella Organization of Serbian Youth KOMS, the Mental Health Network "NaUM", the National Convention on the European Union, the Network for Support of Women 45+ and Green List of Serbia. They are aimed at building the capacity of CSO networks for public advocacy at the local and national levels and increasing citizen participation in decision-making at the local and national levels.
In addition to financial support for the implementation of their projects, networks will go through a specially designed and tailored training programme, in order to improve their skills and knowledge in the fields of advocacy and citizen engagement.
A video of the whole ceremony can be found here. 
The ACT program is supported by the Government of Switzerland to the tune of EUR 5.37 million for the period of 2019-2023 and implemented by the Swiss NGO Helvetas Swiss Intercooperation and the Belgrade-based NGO Civic Initiatives.