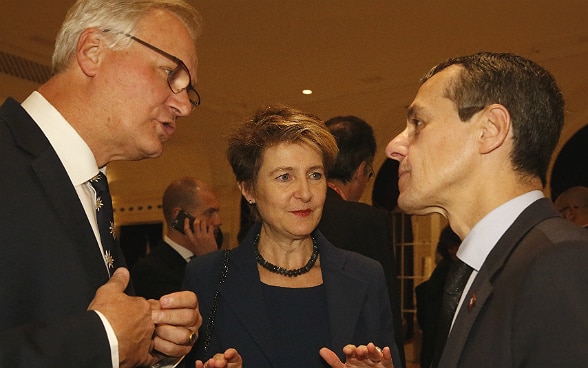 At the invitation of Federal Councillor Simonetta Sommaruga, head of the Federal Department of Justice and Police (FDJP), the Contact Group has set priorities for future cooperation. As the host country, Switzerland has dedicated this third ministerial meeting to the protection of refugees and migrants in Libya and on the migration routes thereto. All the participants expressed deep concern over the human tragedy unfolding in the region.
Thousands of refugees and migrants find themselves in catastrophic situations in this region of Africa, at the mercy of smugglers and traffickers and subjected to extortion, violence and threats. Many die on their journey across the desert or the Mediterranean.
Addressing the root causes
Switzerland welcomes the adoption by the participants of the meeting of a joint declaration setting out measures to ensure protection of the most vulnerable. The objectives include improving conditions in migrant detention centres in Libya (particularly for women, children and unaccompanied minors) and identifying alternatives to detention. It has also been decided to step up support for voluntary return of migrants-while safeguarding their dignity-and the reintegration of migrants in their countries of origin.
The declaration also calls for the strengthening of asylum and protection structures along the Central Mediterranean migration route and the improvement of measures to prevent the smuggling of migrants and to combat human trafficking. It emphasises the need to address the root causes of the problems by creating opportunities in the migrants' countries of origin as an alternative to irregular migration and migrant smuggling.
Thirteen European and African countries
The countries represented at the meeting in Bern were Algeria, Austria, Chad, France, Germany, Italy, Libya, Mali, Malta, Niger, Slovenia, Switzerland and Tunisia. The meeting was also attended by the EU Commissioner for Migration and Home Affairs, the Estonian Presidency of the Council of the European Union and the EU External Action Service. Also present were representatives of the International Organization for Migration (IOM), the United Nations High Commissioner for Refugees (UNHCR) and, for the first time, the International Committee of the Red Cross (ICRC). 
Set up on the initiative of Italian Interior Minister Marco Minniti, the Central Mediterranean Contact Group allows the countries affected to exchange information and coordinate their action. The group met for the first time in Rome on 20 March 2017. A second meeting was held in Tunis on 24 July 2017. The participants of these meetings have agreed to pursue three priorities: to strengthen the capabilities of the Libyan coastguard, to enhance the protection of migrants in Libya and to improve border controls in southern Libya.
The meeting in Bern was organised by the FDJP in collaboration with various other federal departments including the Federal Department of Foreign Affairs (FDFA). The event kicked off on the evening of Sunday 12 November with an official dinner attended by FDFA head Ignazio Cassis. The working meeting was opened on Monday morning by President of the Swiss Confederation Doris Leuthard.
---
Further information:
Go to the Web site of the FDJP for documents pertinent to this media release

---
Address for enquiries:
FDJP Information Service, T +41 58 462 18 18
---
Publisher:
Federal Department of Justice and Police
Federal Department of Foreign Affairs