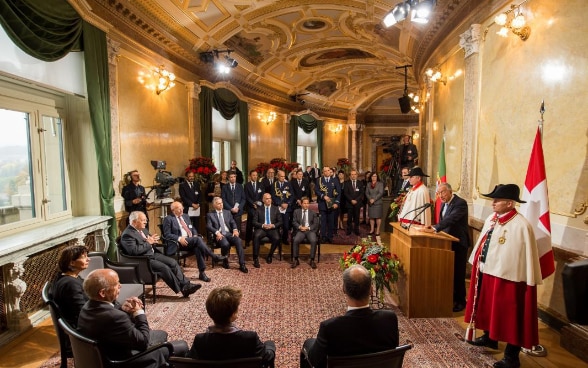 In his welcoming address at the reception for the Portuguese president in Bern, President Schneider-Ammann paid tribute to the contribution of the 270,000 Portuguese nationals living in Switzerland towards the country's prosperity and cultural diversity. He stressed the advantages to both countries of this intensive exchange.
The official talks on Monday were attended on the Portuguese side by President Rebelo de Sousa and Foreign Minister Augusto Santos Silva. Switzerland was represented by President Schneider-Ammann, Federal Councillor Doris Leuthard, the vice president of the Federal Council and head of the Federal Department the Environment, Transport, Energy and Communications (DETEC), and Federal Councillor Didier Burkhalter, the head of the Federal Department of Foreign Affairs (FDFA).
The presidents praised the excellent bilateral relations that exist between the two countries and defined areas for even closer cooperation, such as economic exchange or cooperation within the framework of the UN - also with a view to the term of office of the UN secretary-general designate, António Guterres - as well as research, energy, environmental and climate policy.
In terms of research, the Swiss delegation pointed out that the possibilities for closer cooperation were limited due to the fact that Switzerland was not currently a full member of the European Union's Horizon 2020 research programme. During the discussion on European policy issues the Federal Council delegation stressed the values and interests shared by Switzerland and the EU member states. Switzerland is also a valuable economic partner for the EU.
The Swiss delegation explained the current state of the parliamentary process to revise the Foreign Nationals Act in connection with the implementation of Article 121a of the Federal Constitution on immigration. The talks also touched on the subject of migration to Europe, an area in which there is good cooperation between Switzerland and Portugal under the Dublin Regulation.
Research, business and culture
The programme for the state visit reflects the broad scope of relations between Switzerland and Portugal. President Schneider-Ammann greeted the Portuguese president on his arrival in Geneva before accompanying him on a tour of the Campus Biotech research centre where the 'Human Brain Project' is based; the major project is a symbol of Europe's innovative capacity and also demonstrates the advantages of Switzerland's full association to the Horizon 2020 programme from 2017. Both Switzerland and Portugal are partners in the 'Human Brain Project'. The first day of the state visit will be rounded off with a traditional gala dinner in Bern.
The emphasis on the second day of the state visit is on vocational education and culture; the programme includes visits to an engineering firm and an art museum in the Emmental. The last visit to Switzerland by a Portuguese president took place in 1999.
---
Further information:
Bilateral relations Switzerland–Portugal

---
Address for enquiries:
André Simonazzi, Federal Council Spokesperson
+41 (0)79 597 64 49

EAER Information Service
+41 (0)58 462 20 07, info@wbf.admin.ch

DETEC Information Service
+41 (0)58 462 55 11, info@gs-uvek.admin.ch

FDFA Information Service
+41 (0)58 462 31 53, info@eda.admin.ch

Logistics and Organisation:
FDFA Information Service
+41 (0)58 462 31 53, info@eda.admin.ch
---
Publisher:
The Federal Council
Federal Department of Economic Affairs, Education and Research