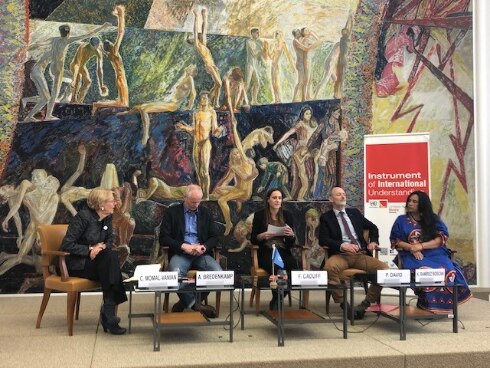 «Alegra !» It is with a greeting in Romansh that Fabia Caduff, political journalist at the Radiotelevisiun Svizra Rumantscha (RTR), began her speech at the conference "Preserving Linguistic Diversity in the Digital Era" at the Palais des Nations in Geneva. International Mother Language Day is celebrated each year on 21 February. This is the first time that Romansh was promoted at a conference at UNOG.
Mrs Caduff recalled that Romansh has been a national language since 1938, following a popular vote that gathered 92% of favourable opinions. Retho-Romanic is now spoken by nearly 60,000 people in different parts of Switzerland.
She also stressed the importance of Switzerland's participation in such events. "Linguistic diversity and multilingualism belong to Switzerland's roots. We Romansh people know that we are privileged compared to other linguistic minorities around the world. We have our own media, schools, the language is registered and protected by the Federal Constitution. I hope our experience can inspire other minorities."
The Swiss woman spoke alongside three other guests: Andrew Bredenkamp, Chairman of the Board of Directors of Translators Without Borders; Karmen Ramírez Boscán, Founder of Fuerza de Mujeres Wayuu (Wayúu Women's Force) in Colombia, Wayuunaiki writer, teacher and blogger and Paulo David, Head of the Indigenous Peoples and Minorities Section, Subdirectorate of Law, Equality and Non-Discrimination, United Nations High Commissioner for Human Rights. The debates focused more specifically on the challenges and opportunities that technology and the Internet represent for the preservation of indigenous languages.
"Switzerland is a great example. As a host State, it is also a country defined by linguistic diversity. We could not avoid inviting Switzerland when we talk about multilingualism," said Corinne Momal-Vanian, Director of the Division of Conference Management at the United Nations Office at Geneva..
On the occasion of this day, the FDFA recalls its commitment to linguistic diversity and calls for celebrating the Day in as many languages as possible to remind that linguistic diversity and multilingualism are essential to promote the vitality of societies and their cultural wealth.