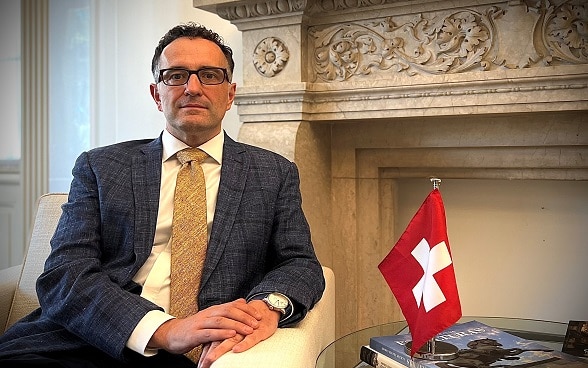 Dear visitors,
It is my pleasure to welcome you to the website of the Embassy of Switzerland in Cuba, and I invite you to browse these pages to learn more about the activities and services of the Embassy.
The main mission of our Representation is to promote and develop the bilateral relations between Switzerland and Cuba, as well as between Switzerland and Jamaica, in the fields of politics, economics, cooperation, education, including vocational training, and culture.
The relationship between Switzerland and Cuba goes back a long way. At the proclamation of the Republic of Cuba in 1902, Switzerland immediately recognised it and established diplomatic relations. Since then, our ties have never been interrupted. Moreover, from 1961 to 2015, Switzerland represented the interests of the United States of America in the Republic of Cuba, and from 1991 to 2015, also those of Cuba in the USA. Today, these ties are also present in our exchanges at the multilateral level, in particular within the United Nations organizations.
The Swiss Cooperation (SDC) has been present in Cuba since 1997, initially with projects in the medical field. Since 2000, a cooperation programme has been implemented with three main areas of intervention - strengthening of local public institutions, access to food, and local economic development (including technical and professional education) - to contribute constructively to the ongoing reform processes aimed at improving the living conditions of the Cuban population. The programme is complemented by the themes gender, health, and culture. According to the line indicated by the Federal Parliament, Switzerland will gradually phase out its bilateral cooperation in Latin America and the Caribbean by the end of 2024. Thus, also in Cuba, Swiss Cooperation will be transformed through other instruments, such as humanitarian assistance and disaster prevention, thematic programmes related to the environment, climate change, or food security, for example.
The ties between the citizens of our countries are developing in many areas and in this sense, contacts with the Swiss communities in Cuba and Jamaica will be a priority for the team of the Embassy. Moreover, culture plays a central role in this context as an inexhaustible source of joy and interpersonal and institutional opportunities.
The Embassy of Switzerland offers consular services to Swiss citizens residing and traveling in Cuba and Jamaica and to those requesting visa information. You will find quite some information on these pages. If necessary, you can contact us by e-mail (havana@eda.admin.ch ).
I hope you will find on this site the information you need. This is one of the communication tools between the Embassy and you, together with our profile on Facebook. Best regards.
Stefano Vescovi
Ambassador-designate of Switzerland to Cuba and Jamaica