Academic internships
The Embassy offers internships for which vacancies will be published through the state web portal.
Job opening – Academic internship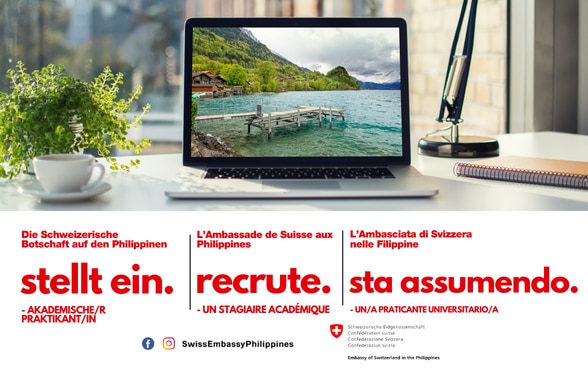 Sind Sie an einer diplomatischen Laufbahn im Eidgenössischen Department für auswärtige Angelegenheiten interessiert? Die Schweizerische Botschaft auf den Philippinen sucht eine/n akademische/n Praktikant/in, der/die die diplomatische Abteilung der Botschaft bei ihren Aufgaben unterstützt. Dazu gehören unter anderem die Beobachtung der innen- und aussenpolitischen Entwicklungen, Handelsbeziehungen, Kommunikation und Projektmanagement.
Einsendeschluss für Bewerbungen: 04.04.2023
Ansprechperson auf der Botschaft ist Frau Amaris Javillonar, margarita-amaris.javillonar@eda.admin.ch, Tel. +41 58 480 09 15.
Stelleninserat_Hochschulpraktikum (PDF, 2 Pages, 323.7 kB, German)
---
Êtes-vous intéressé(e) par une carrière diplomatique au sein du Département fédéral des affaires étrangères? L'Ambassade de Suisse aux Philippines recrute un(e) stagiaire académique qui sera chargé(e) d'assister la section politique de l'Ambassade dans ses tâches. Celles-ci comprennent, sans s'y limiter, le suivi des développements politiques internes et externes, les relations commerciales, la communication et la gestion de projets.
Date limite de dépôt des candidatures: 04.04.2023
La personne de contact à l'ambassade est Mme Amaris Javillonar, margarita-amaris.javillonar@eda.admin.ch, tél. +41 58 480 09 15.
Offre Stage diplomatique (PDF, 2 Pages, 309.1 kB, French)
--- 
Siete interessati ad intraprendere una carriera diplomatica presso il Dipartimento federale degli affari esteri? L'Ambasciata di Svizzera nelle Filippine sta assumendo un/a praticante universitario/a che sarà responsabile d'assistere la sezione diplomatica dell'Ambasciata nei suoi compiti. Questi includono, ma non solo, il monitoraggio degli sviluppi politici interni ed esterni, le relazioni commerciali, la comunicazione e la gestione di progetti.
Scadenza per le candidature: 04.04 2023
La persona di contatto presso l'Ambasciata è la signora Amaris Javillonar, margarita-amaris.javillonar@eda.admin.ch, tel. +41 58 480 09 15.
Posto praticante universitario/a (PDF, 2 Pages, 306.0 kB, Italian)