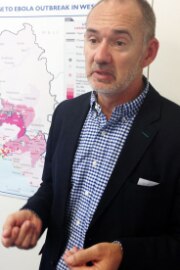 Dr Olivier Hagon, head of the Medical Expert Group within the Swiss Humanitarian Aid Unit
What is your view on the extremely rapid spread of this epidemic?
We are facing two particular challenges here: firstly, extremely poor countries with failing health-care systems. This is where the epidemic has originated. Secondly, the virus is not behaving normally. By acting swiftly, we are usually able to contain Ebola epidemics within specific areas. In the current situation, the virus has been more mobile, and is spreading to large towns. These factors are making the situation worse.
What are the most important needs on the ground?
Re-establishing health-care systems in the countries concerned is a matter of urgency – not just to care for those infected with the Ebola virus, as well as to dispose of the bodies, but primarily to ensure a basic level of health-care for the population, which is otherwise being denied it. We have to widen our view, since this is not just a health crisis: it is a complex humanitarian crisis with a whole range of knock-on effects. The economy is suffering, prices are rising, and security is becoming a problem, etc. Humanitarian aid must therefore cover a variety of aspects.
What specific aid do you think that Switzerland might provide to help counter the spread of the Ebola virus?
While larger nations are setting up treatment centres for Ebola, Switzerland can achieve a great deal by working on the health-care practices side, and on action to monitor infections and hygiene. The real issue is to restore confidence on a broad scale, while limiting the risks for medical staff and the population. Medical practices should be adapted to the Ebola context – not just for those who have contracted it, but also for the rest of the population. By reassuring medical staff, we can ensure that they will remain within the hospitals and, in so doing, will help to get the health-care system in the countries concerned back up and running.