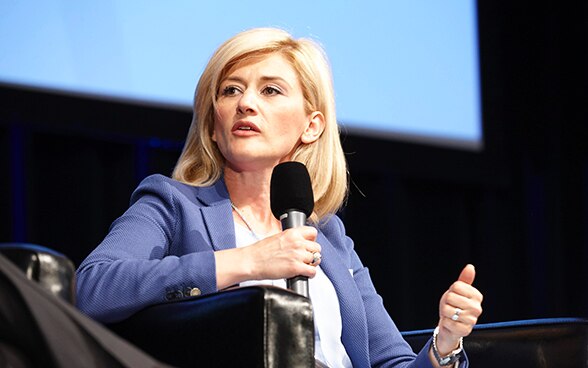 An elegant woman and vocal advocate of her beliefs, Ms Kusari-Lila received a rapturous welcome at the 2015 Annual Conference on Swiss Cooperation with Eastern Europe. Speaking alongside other participants, including the mayor of Biel/Bienne, Mr Erich Fehr, she shared her vision of strong municipal authorities in her country, where the SDC has been active since 1999.
She illustrated how important it is for municipalities to kindle civic engagement in local politics and, at the same time, demonstrate their accountability to the people. People will be happier to pay their taxes if they can see a credible return on their investment in the form of well-run public services and a favourable business climate, for example.
Modern water-treatment facilities
Often funding is needed in order to nudge things forward. Thanks to SDC funding, the municipal water-treatment system in Gjakova has been completely modernised and plans are under way to link up 42 nearby villages to the city's mains water supply by 2017.
The SDC is also working on an anti-corruption project aimed at bringing more transparency to bureaucratic procedures. In 2014 Gjakova was awarded the prize for city with the greatest levels of transparency in Kosovo. Mimoza Kusari-Lila explains what it takes to succeed in decentralisation.