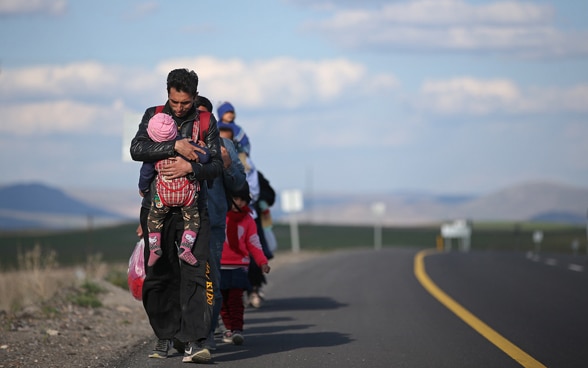 In 2018, the UN General Assembly negotiated the Global Compact for Safe, Orderly and Regular Migration. It will be formally adopted at a conference of heads of state and government on 10-11 December 2018 in Morocco. Switzerland supported this process, among other ways, by making the head of its New York mission available as co-facilitator. This support is in line with Switzerland's long-standing commitment to strengthen global migration governance. Switzerland relies on international cooperation, for example, to reduce irregular migration, strengthen protection in regions of origin, and carry out returns in a adequate manner. 
The Global Compact for Migration is an example of 'soft' law, meaning that it is politically but not legally binding. It aims to enable the international community to determine common benchmarks for orderly migration and thereby also reduce irregular migration. The Global Compact contains ten guiding principles, 23 objectives and a list of possible voluntary actions for implementing each objective. The guiding principles and objectives correspond fully with Switzerland's policy on migration, for example concerning more assistance on the ground, combating human trafficking and human smuggling, secure borders, respect for human rights, returns and reintegration as well as lasting integration. In terms of domestic policy and practice, the compact does not require from Switzerland any action.
The voluntary actions are examples of what states can use to achieve the objectives, providing they fit the context and correspond with the country's political priorities. Since there is scope for interpretation in the case of some of these actions, the Federal Council has clarified the situation.  There is an instance where one action, concerning detention pending deportation of minors from the age of 15, diverges from Swiss legislation. The Federal Council has clarified its understanding of some of the other actions. Since every state is free to decide which actions it wishes to use to achieve the objectives, the identified deviation does not pose an obstacle to approving the Global Compact for Migration.
With this decision the Federal Council also strengthens Switzerland's further cooperation with the UN in the area of migration. This is also important for Geneva, which over the years has established itself as an international centre for global migration governance. The most important international organisations, in particular the International Organization for Migration, are based in Geneva. The UN Global Compact for Migration has the potential to strengthen Geneva's key role in this field.
The Federal Council instructed the FDFA to consult the parliamentary foreign affairs committees on the Federal Council's decisions and to inform the Federal Council of the foreign affairs committees' positions. The Federal Council will also take a position on the various parliamentary procedural requests.
---
Address for enquiries:
FDFA Information
Tel. +41 58 462 31 53
info@eda.admin.ch
---
Publisher: