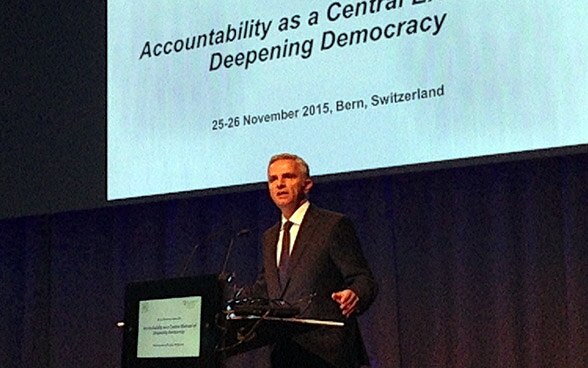 Over 150 specialists from Switzerland and abroad active in politics, academia, civil society, the media and the business sector met for the two-day forum in Bern on the invitation of the Swiss chair of the Council of Member States. They deliberated on the importance of accountability in democratic societies and how to implement it practically, reflecting on their own roles and the interaction among the various actors. Switzerland has based its one-year chairmanship on the theme of 'Accountability as a central element of deepening democracy', and has organised numerous workshops in different parts of the world to discuss the subject in depth.
The forum was opened by Manuel Sager, director-general of the Swiss Agency for Development and Cooperation SDC, and has focused mainly on specific experiences such as in Tunisia, where it was possible – despite the country's difficult transition – to guarantee the independence of the electoral commission. Another topic under discussion was the impact of Mongolian citizens having a greater say at local and regional levels during the country's democratisation process. Accountability also plays an important role in implementing the global 2030 Agenda for Sustainable Development, which was recently adopted by the heads of state and government of the UN member states. Switzerland shared its experiences of its active involvement in the 2030 Agenda. Mr Sager explained how the SDC is keen to avoid putting parallel structures in place to implement the agenda, and instead supports reform efforts in partner countries and local initiatives.
In his speech, Mr Burkhalter reaffirmed that Switzerland would take the necessary steps to implement the 2030 Agenda domestically, and would support its development cooperation partner countries in their efforts to introduce democracy. "Development is only sustainable when it benefits everybody everywhere, without distinction or discrimination," said Mr Burkhalter. In this, accountability plays a central role. He went on to say that "this requires institutional checks and balances between the different branches of government and the ability of citizens to participate in democratic processes."
After his speech, Mr Burkhalter held talks with the deputy secretary-general of the UN, Jan Eliasson. He also received the Mongolian foreign minister, Lundeg Purevsuren, for a bilateral working visit. Mongolia will take over the chairmanship of International IDEA in 2016.
International IDEA was founded in 1995 and is headquartered in Stockholm. It has observer status at the UN. Switzerland joined the organisation in 2006. International IDEA has regional offices in Africa, Asia and the Pacific, Latin America and the Caribbean, Western Asia and North Africa.  The organisation aims to support democratic institutions and sustainable, effective and legitimate democratic processes.
---
Further information:
IDEA
Address by Federal Councillor Didier Burkhalter

---
Address for enquiries:
Information FDFA
Bundeshaus West
CH-3003 Bern
Tel.: +41 58 462 31 53
Fax: +41 58 464 90 47
E-Mail: info@eda.admin.ch
---
Publisher: