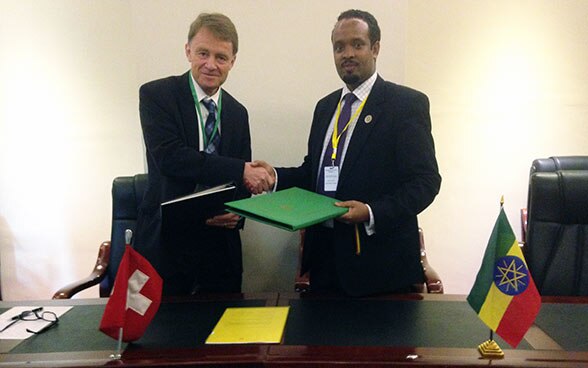 Through this framework agreement Switzerland and Ethiopia complement and update the legal bases for humanitarian aid, and technical and financial cooperation for the benefit of poor population groups. Among other things, framework agreements simplify the implementation of programmes and projects in Ethiopia in areas such as the import and use of specific goods and the deployment of experts. The Federal Council approved the framework agreement on 1 July 2015.
Since 2013, the Horn of Africa has been a priority region of Swiss development cooperation in line with the Federal Council's Dispatch on Switzerland's International Cooperation for 2013–2016 and with policy to increase its engagement in fragile states. Expanded longer-term cooperation is part of the Federal Council's regional strategy for the Horn of Africa. In 2014, Switzerland spent approximately CHF 8.4 million on humanitarian aid and development projects in Ethiopia and is planning to increase this amount progressively to approximately CHF 10 million per year in the coming years. These resources will enable rural population groups in the arid southern and south-eastern parts of the country to better manage the cycle of recurring natural disasters and to use and secure their natural resources more sustainably. For this reason Switzerland is supporting, among other things, efforts to strengthen both human and animal health systems in shepherd communities, improve the storage of agricultural products and protect displaced persons.
Ethiopia remains one of the poorest countries in the world. Two thirds of the approximately 94 million people living in the country (2013) live on less than CHF 2 a day. Many of them are undernourished or malnourished. Droughts and flooding are becoming more frequent as a result of climate change and their impact is being exacerbated by deforestation and erosion. This primarily affects rural communities which account for more than four fifths of the population. At the same time, Ethiopia is experiencing strong economic growth. The country has set itself the target of becoming a middle-income country by 2025. The lion's share of public investment therefore goes into expanding public infrastructure (roads, electricity and water supply, schools, healthcare facilities, communications infrastructure). In spite of considerable improvements to public services the country is still heavily dependent on outside support, in particular with regard to dealing with the consequences of natural disasters.
Thanks to its open-door policy, Ethiopia hosts more than 600,000 refugees – the largest number in the African continent – and there are approximately 400,000 internally displaced persons in the country. At the same time Ethiopia is a transit country in migration movements. The headquarters of the African Union in Addis Ababa adds to Ethiopia's political weight in the continent.
---
Address for enquiries:
Information FDFA
Bundeshaus West
CH-3003 Bern
Tel.: +41 58 462 31 53
Fax: +41 58 464 90 47
E-Mail: info@eda.admin.ch
---
Publisher: