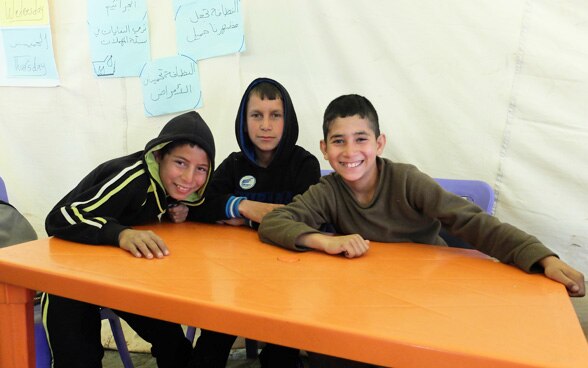 "Syria is the greatest humanitarian challenge of the present day. The citizens of Syria's neighbouring sates deserve our thanks and our respect", said President Schneider-Ammann in London on Thursday. Since the outbreak of the crisis Switzerland has allocated over CHF 250 million towards assistance in Syria and neighbouring countries. Around half of the funds will be used in Syria itself, while the other half is intended to help those affected in neighbouring countries.
One of the priorities of Switzerland's assistance is to improve longer term prospects for those affected by the Syrian conflict by investing in education projects, for example. Switzerland is also striving to improve working conditions for humanitarian organisations in Syria through its humanitarian diplomacy efforts.
Meeting with European heads of government
The heads of state and government of around 30 countries were present at the Syria Conference in London. President Schneider-Ammann held separate talks with Dutch Prime Minister Mark Rutte, Swedish Prime Minister Stefan Löfven, and Croatian President Kolinda Grabar-Kitarović. In both cases the main topics of discussion were bilateral relations and Switzerland's policy towards the whole of the European Union. The president explained that Switzerland was making every effort to reach a mutual agreement with the EU regarding implementation of the new constitutional immigration provisions by means of a safeguard clause within the framework of the existing agreement on the free movement of persons.
---
Further information:
---
Address for enquiries:
EAER Information Service
058 462 20 07,
info@gs-wbf.admin.ch
---
Publisher:
Federal Department of Economic Affairs, Education and Research
Federal Department of Foreign Affairs