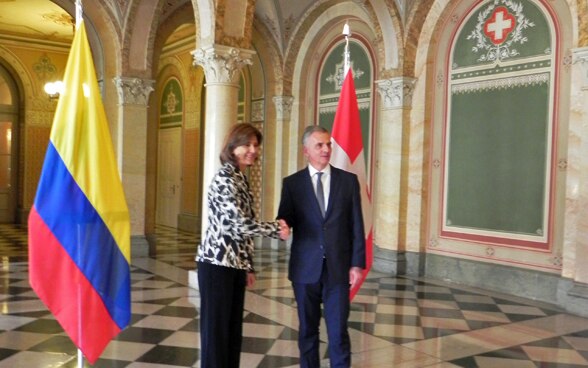 A priority country for Switzerland in the areas of peacebuilding, humanitarian aid and economic development, Colombia has growing strategic importance in Latin America. Switzerland has been actively involved in the country for over a decade. It has excellent relations with Colombia which have developed and strengthened in recent years. Colombia is Switzerland's fifth most important trading partner in South America, and the governments of the two countries have held regular political consultations since 2008.
On Tuesday the head of the Federal Department of Foreign Affairs (FDFA) Didier Burkhalter received the minister of Foreign Affairs of Colombia María Ángela Holguín Cuéllar in Bern where she paid him a courtesy visit. They discussed in particular challenges related to the ongoing peace process between the Colombian government and FARC, and the role Switzerland plays here. Switzerland is engaged in different aspects of post-conflict management (dealing with the past, transitional justice, strengthening human rights etc.) and provides its expertise as it is convinced that only a negotiated solution can constitute the necessary basis for a lasting peace in Colombia.
Mr Burkhalter and Ms Holguín Cuéllar also addressed economic issues, including the new dynamics within the Pacific Alliance. This regional organisation made up of four Latin American countries (Chile, Colombia, Peru, Mexico) seeks to promote free trade. Switzerland has had observer status since 2013. Mr Burkhalter and Ms Holguín Cuéllar also welcomed the fact that Switzerland will again participate in the Diplomacia Deportiva (sport diplomacy) programme as a host country in September 2016. This programme offers young Colombians from conflict-torn regions the prospect of an alternative to a life of crime and violence.
Before her courtesy visit, the Colombian minister of foreign affairs held talks with FDFA State Secretary Yves Rossier in the framework of the fifth round of political consultations between Switzerland and Colombia. Their discussions focused on the political situation and human rights in Colombia as well as economic relations between the two countries. Mr Rossier and Ms Holguín Cuéllar discussed the implementation of various initiatives to strengthen social responsibility among businesses operating in Colombia, particularly extractive companies. Other discussion topics included global and multilateral issues, such as the UN General Assembly Special Session (UNGASS) on the world drug problem on which the two countries have very similar positions.
---
Further information:
Bilateral relations Switzerland – Colombia

---
Address for enquiries:
Information FDFA
Bundeshaus West
CH-3003 Bern
Tel.: +41 58 462 31 53
Fax: +41 58 464 90 47
E-Mail: info@eda.admin.ch
---
Publisher: