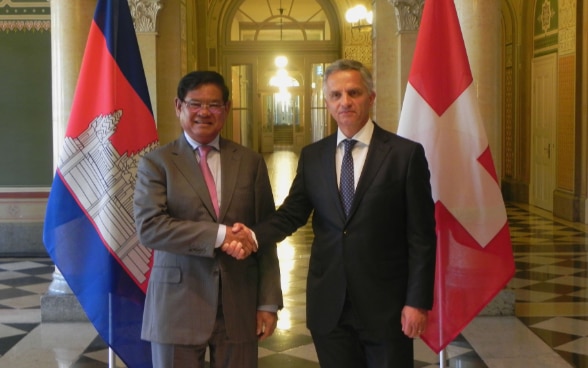 In Cambodia, Switzerland is supporting an ambitious democratisation and decentralisation process conducted by the SDC by co-funding a national ten-year programme. The reform aims to ensure that the interests of local communities are taken more into consideration in public policies and in the quality of the services provided.
The meeting between the Head of the FDFA and the Deputy Prime Minister took place on the margin of a study trip that a high-level Cambodian delegation is currently undertaking in Switzerland. The trip enables various Cambodian officials in charge of the democratisation and decentralisation programme to find out more about Switzerland's experience of local administration and participative decision-making. The delegation is to hold talks with representatives of the three political levels in Switzerland, giving particular attention to strengthening capacities and financial resources at the sub-national levels, as well as to questions concerning power-sharing – the building blocks of a functioning democracy.
In addition to its support for the efforts to promote democratisation and decentralisation in Cambodia, the SDC is also active in an important vocational education and training programme. Furthermore, it is working to improve the livelihoods and incomes of smallholder farmers, and is continuing its support for the Kantha Bopha hospitals run by Dr Beat Richner. From a Swiss perspective securing sustainability and integration of hospitals into the country's health system is crucial.
During his meeting with the Cambodian Deputy Prime Minister, the Head of the FDFA stressed that the protection of human rights, the division of powers and the maintenance of an environment conducive to democratic dialogue are essential for ensuring peace, security and prosperity in all countries. In this respect he expressed the wish that the political dialogue between the ruling party and the main opposition party in Cambodia be revived more rapidly.
The SDC opened a programme office in Phnom Penh in 2013. Its activities in Cambodia are part of a regional strategy for the Mekong region to reduce poverty, support efforts to ensure equitable and sustainable development, and to foster democratic governance.
---
Further information:
Bilateral relations Switzerland–Cambodia
SDC projects in the Mekong region
Project: For citizen-oriented public services

---
Address for enquiries:
Information FDFA
Bundeshaus West
CH-3003 Bern
Tel.: +41 58 462 31 53
Fax: +41 58 464 90 47
E-Mail: info@eda.admin.ch
---
Publisher: