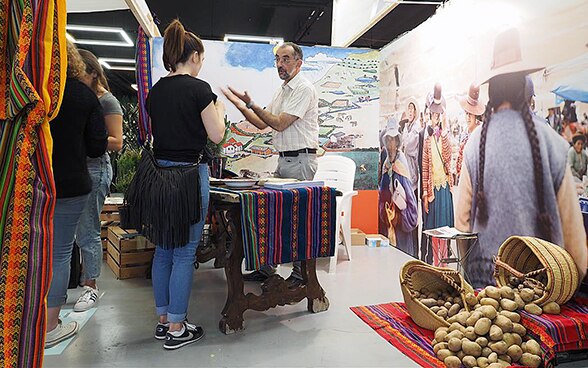 From 10 to 19 September, the SDC will welcome the public to its 150 m2 exhibition in the entry hall of the Comptoir Suisse grounds. Under the heading 'Flavours from beyond – how the SDC works with the farmers of the world', the stand will take visitors on a cultural journey through six countries where the SDC is supporting the work of smallholder farmers. The exhibition is designed to be interactive from all angles: visitors will be invited to taste the locally grown produce and discuss topical issues.
Seventy percent of people living in poverty work in the agricultural sector, which remains the single largest employer in the world. That is why the SDC and its partners have committed themselves to increasing food security as one of their top priorities.
The exhibition will demonstrate how environmentally friendly farming can help fight poverty and hunger. There are many factors that affect food production. In Benin, the SDC backs a project that helps smallholders protect their corn from the devastating impact of insect damage. In Laos, the SDC works with rice farmers and the relevant authorities to support crop diversity. In Kosovo, market gardeners are shown how to process and preserve their produce – two activities that generate employment. In Peru, the SDC funds several initiatives among Andean farmers and livestock breeders to raise awareness of climate change and how they will need to adapt to this.
The stand will also show how the SDC is working to provide basic education and quality vocational training to as many people as possible. Basic skills such as reading, writing, arithmetic and the ability to speak a national language are in fact crucial for smallholder farmers who wish to move beyond subsistence farming and sell their crops on the market.
Public round tables will also be hosted at the weekends (incl. on the lundi du Jeûne public holiday in the canton of Vaud), with SDC specialists and guest speakers discussing a variety of topics in the field of development cooperation.
Round-table programme:
Saturday 10 September 2016, 11am: The challenge for Swiss start-up in the battle for drinking water
Sunday11 September 2016, 11am: The Chinese superpower in Asia and Africa – a threat to smallholder farmers?
Saturday 17 September 2016, 11am: Education versus exclusion – a case for lifelong learning...
Sunday 18 September 2016, 11am: What are the models for environmentally sound agriculture?
Sunday 18 September 2016, 11am: Are food crises in Africa inevitable?
---
Further information:
The SDC's activities in agriculture and food security
Prioritising basic education and vocational training
Comptoir suisse in Lausanne (fr)
Photo gallery
Galería de foto (sp)

---
Round-table programme (fr)(pdf, 54kb)

---
Address for enquiries:
Information FDFA
Bundeshaus West
CH-3003 Bern
Tel.: +41 58 462 31 53
Fax: +41 58 464 90 47
E-Mail: info@eda.admin.ch
---
Publisher: