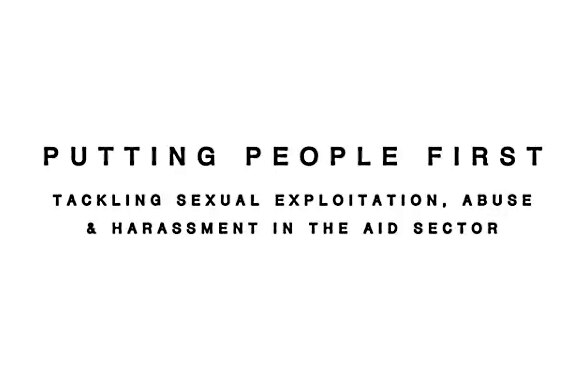 Sexual exploitation and abuse are a global problem directly related to power imbalances and discrimination, especially against girls and women, but also against other vulnerable groups. In situations where the power imbalance is particularly high – for example in development contexts, crises and emergencies – the risks are especially acute. In such situations there is often a lack of effective rule of law, which in normal circumstances ensures that beneficiaries and target groups of international aid are treated with dignity and their rights are protected. "We need binding and enforceable standards, codes of conduct, structures and mechanisms to address, detect and legally prosecute sexual exploitation and abuse," said Manuel Bessler, delegate for humanitarian aid and head of the Swiss delegation to the Putting People First summit in London. Along with 21 other member countries of the Organization for Economic Co-operation and Development (OECD), he also called for "a strong and clear commitment at all levels to zero tolerance and rigorous enforcement and implementation of standards and codes to combat and prevent the abhorrent phenomenon of sexual exploitation and abuse".
In their declaration, the 22 OECD states, which together implement about 90% of international cooperation funding, set out various lines of action and some 20 specific measures. In addition to common standards and zero tolerance for all types of exploitation, they include improved protection for victims and whistleblowers, rigorous prosecution of perpetrators and better prevention and training. States also agreed that a cultural shift is needed to build trust, promote equality and create an environment that prevents abuse of power and ensures that victims are heard, with the ultimate aim of strengthening women and marginalised groups.
Switzerland's participation in the Putting People First summit is part of its commitment to combating sexual exploitation, abuse and harassment and to harmonising and complying with international standards. These standards are aimed at creating a global reference framework to which countries can refer in their implementation of national measures. Through its participation in various UN bodies, Switzerland was able, for example, to ensure that the UN Development Programme set up a 24-hour hotline to prevent and combat sexual exploitation, abuse and harassment.
The FDFA itself also calls for zero tolerance of sexual exploitation, abuse and harassment through its Code of Conduct for FDFA staff abroad and in its cooperation with partner organisations. Through the Code of Conduct for all partner organisations of the Swiss Agency for Development and Cooperation (SDC) that receive core contributions, the SDC and its partners are working to further strengthen prevention, risk control mechanisms and the protection of victims.
---
Further information:
---
Address for enquiries:
FDFA Information
Federal Palace West Wing
CH-3003 Bern, Switzerland
Tel.: +41 58 462 31 53
Fax: +41 58 464 90 47
E-mail: info@eda.admin.ch
---
Publisher: