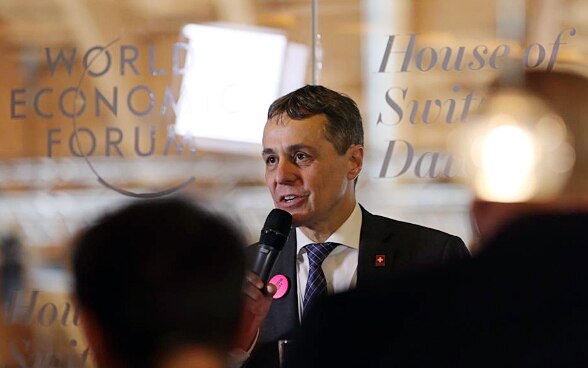 A modular power cube that generates off-grid energy in the event of power failures caused by earthquakes; satellite technology that identifies locations at risk and maps rice-growing areas to better forecast harvests; smartphones facilitating access to microcredit: these are some of the many SDC projects that harness innovative technology to enhance the effectiveness of its work. On 23 January 2019, the SDC presented various projects developed in partnership with the private sector at the WEF Tech4Good event. "Pooling the efforts of academia, the private sector and government agencies can produce impressive solutions", remarked Federal Councillor Ignazio Cassis in his opening address at the Tech4Good event at the House of Switzerland.  "Working together for the common good is part of our Swiss DNA", he added. Mr Cassis also noted that a commitment to the common good is enshrined in the Federal Constitution and provides the basis for implementing the 2030 Agenda for Sustainable Development.
'Tech4Good' means harnessing technology for the benefit of communities, for example to promote economic development, waste management or healthcare systems. In this way, the SDC is delivering good governance through technological innovation. The SDC is connecting various stakeholders to exploit the full potential of new technology in tackling poverty, both in terms of delivering emergency humanitarian aid and implementing long-term reform programmes.

The international organisations in Geneva are also focusing on technological innovation in close cooperation with academia and the private sector.
The objective of the Geneva Day, held in Davos on 22 January 2019, was therefore to explore the important role of International Geneva in defining global rules and standards for technological developments.

An event hosted by the International Committee of the Red Cross and Swiss Re, attended by FDFA State Secretary Pascale Baeriswyl, explored the impact of digitalisation in the humanitarian field. New technology has huge potential to improve the effectiveness of humanitarian work, but also raises a range of questions regarding the risks to communities in conflict zones. In addition to amending existing guidelines, there is clearly a need to define new rules. International Geneva is playing a crucial role in taking this forward.
In the evening, leaders from the private sector and government and civil society representatives gathered over dinner to explore Geneva's role in establishing appropriate rules and standards for the Fourth Industrial Revolution. The discussion focused on the need to counterbalance emerging technologies with bold new approaches to governance. Geneva provides a neutral forum for all the stakeholders, including public and private sector researchers and practitioners, to exchange and pool ideas on mounting a collective response. By working together, they can find and develop fresh approaches to international cooperation. Globalisation and digitalisation are transforming our world at unprecedented speed which will require the construction of a new global governance architecture. International Geneva is the perfect environment for establishing these new approaches. The public figures attending Geneva Day included Microsoft President Brad Smith, who had a meeting with Federal Councillor Ignazio Cassis.
'Globalisation 4.0' is the theme of Davos 2019. Discussion will focus on the positive and negative impacts of technological innovation, such as growing inequality and the erosion of public trust in our government institutions, posing a future threat to our economies and democracies.
---
Further information:
International Geneva as a Laboratory of Agile Global Governance
Satellite technology protects smallholder farmers against crop losses
How mobiles change smallholder farmer's lifes
Climate change: Melting glaciers: danger ahead!

---
Address for enquiries:
FDFA Information
Federal Palace West Wing
CH-3003 Bern, Switzerland
Tel.: +41 58 462 31 53
Fax: +41 58 464 90 47
E-mail: info@eda.admin.ch
---
Publisher: