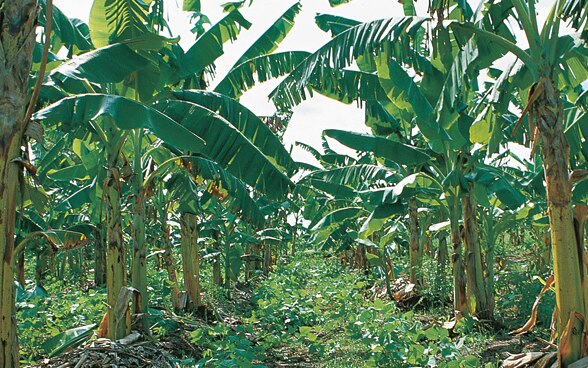 The planet supplies us with raw materials, energy and services. But they are often undervalued. Switzerland supports a partnership that is pushing for a rethink in the financial sector.
At first glance, it may seem like an unlikely partnership: the United Nations Environment Programme (UNEP), NGO the Global Canopy Programme, major bank UBS, eight other banks and SECO. But these institutions joined forces in 2012 to form the Natural Capital Finance Alliance (NCFA). Since then, they have been working to develop new instruments and methods in the financial sector that take account of environmental risks, and establish them as global standards.
The concept of natural capital is increasingly used in the financial sector. It is the idea that soil, air, water and flora and fauna are natural assets. They provide 'ecosystem services' without which humans would not survive. For example, trees produce the oxygen that we breathe; soil acts as a water filter; and forests provide wood as a raw material. The concept of natural capital attaches an economic value to natural assets and the flow of goods and services they yield. In this way, central but hitherto neglected environmental factors should be incorporated in economic decisions.
The financial sector's considerations regarding sustainability go beyond investment opportunities for environmentally conscious clients. The central question is how loans, bonds and other financial products jeopardise the stability of banks if they are issued with no regard for environmental risks. This concerns some very specific questions: for example, what interest rates should a brewery pay on a loan which it plans to use to invest in a production site where water may be scarce? Brewing beer requires a great deal of water. If, as a result of climate change, water were to become scarce and therefore more expensive, this could pose problems for the brewery's business model. For the lender, there is a greater risk of losing money. By contrast, if the brewery uses water-saving technologies, this could have a positive impact on interest rates.
For the most part, banks are not yet able to incorporate natural capital in their credit analyses as the data and methods are lacking. These are precisely the gaps the NCFA intends to close. The initiative was launched at the Rio+20 Conference on Sustainable Development in 2012. More than 40 CEOs from financial companies signed the associated declaration. The NCFA is also supported by various NGOs and government institutions. There is a special focus on South Africa, Colombia, Peru and Indonesia – all of which are SECO priority countries. SECO contributes over CHF 4 million to support the initiative.