"How to talk about international cooperation today"
In 2021, the Swiss Agency for Development and Cooperation celebrates its 60th anniversary. Instead of just looking back, it's staying active, inspiring young people to tackle future challenges together. Its language – like that of its partners – is the language of the 2030 Agenda. In its work, the SDC combines humanitarian aid with development cooperation and multilateral engagement. Patricia Danzi shares insights on international cooperation as it stands – and where it is headed.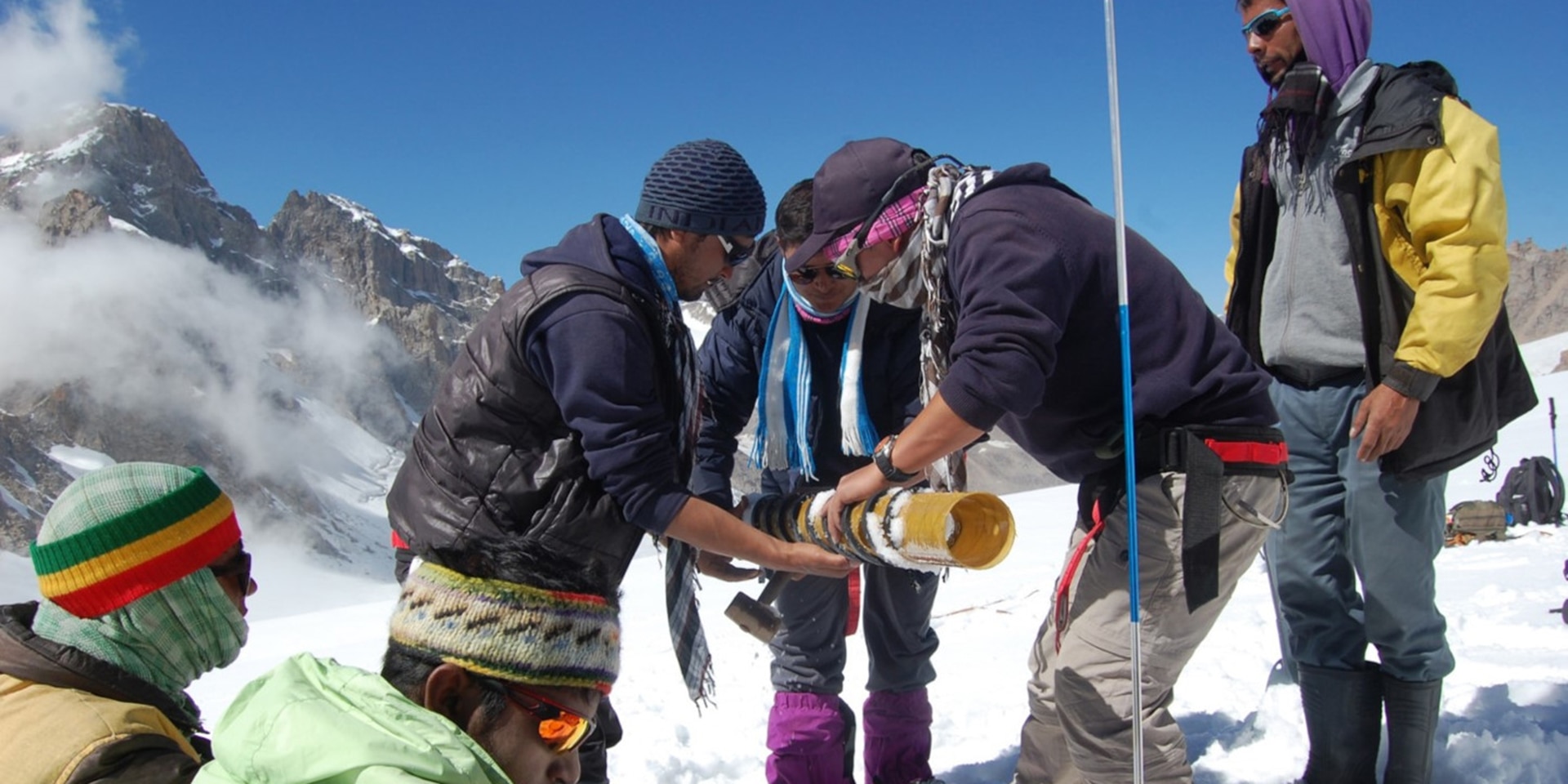 With the Indian Himalayas Climate Adaptation Programme, the SDC is promoting the research of young scientists: they are monitoring glaciers and improving the lives of mountain communities. © Prashanth Vishwnathan/IHCAP
The Middle East and North Africa, sub-Saharan Africa, Asia and Eastern Europe: these regions form the focus of the bilateral cooperation of Swiss international cooperation in 2021–24, with its strategy and clearly defined objectives. Yet COVID-19 has shifted everyone's priorities. The SDC added a focus on responding simultaneously to the challenges of the pandemic and adapting swiftly to emerging needs. This has meant providing emergency aid to save lives as well as taking forward-looking action to strengthen healthcare systems. These two ongoing fronts are flanked by multilateral efforts promoting a global response to the pandemic, including, for example, the need to ensure affordable testing and vaccines for everyone. This triangulated modus operandi has long been a hallmark of Swiss international cooperation.
Patricia Danzi, many countries provide humanitarian aid. Others pursue development cooperation activities or support international organisations. Switzerland is active on all three fronts. Wouldn't focusing on just one tool allow for more efficiency and flexibility in tackling today's challenges?
Our multi-pronged approach – which has become increasingly unique – is precisely how we remain flexible, innovative and relevant. Take the example of Sudan, which approached us with a clear request. The country needs humanitarian aid to cope with natural disasters and the effects of conflicts. It is hosting tens of thousands of refugees from Ethiopia, in addition to over 100,000 internally displaced persons. At the same time, Sudan is going through a political transition and on the path towards building peace, it needs reliable partners to join in aspirations shaped by the 2030 Agenda for Sustainable Development. Switzerland is a partner that offers all of this. It is aware of the changing needs on the ground and draws strength from the trust it has earned through its peace-building efforts and humanitarian aid. Another example is Ukraine: we have been supporting the country's social and economic reforms for years and we will host the fifth Ukraine Reform Conference in Lugano in 2022. At the same time, with the Swiss Humanitarian Aid Unit, we are the only country whose aid can cross the line of contact into the Donbas region.
Hundreds of oxygen concentrators in India, 30,000 COVID-19 kits in Nepal, 30 tonnes of humanitarian aid supplies to Mongolia, medical supplies worth CHF 335,000 sent to Tunisia and more: Switzerland has made headlines during the pandemic as a generous donor. Is humanitarian aid still our best calling card?
We have a long tradition of humanitarian aid, well known in Switzerland and abroad. It has demonstrated our solidarity and role as a reliable partner. But the pandemic has clearly shown that bilateral and multilateral cooperation works at a systemic level, pushing for changes that are part of long-term solutions. In this case it is the healthcare systems that are failing. With the Access to COVID-19 Tools Accelerator initiative, we have responded – alongside international organisations, experts, governments and the private sector – to the need for vaccines, tests and diagnostics, and pushed for the reform of healthcare systems (editor's note: in Jordan, for example, COVID-19 tests now cost one tenth of their initial price. This promotes fair access for the entire population). With International Geneva and Switzerland's membership of various multilateral bodies, we influence these processes and promote such synergistic partnerships at global level as well.
The public is quite familiar with how Swiss Humanitarian Aid provides rapid assistance in crises. But the challenges and objectives of international cooperation are less clear. How can that be changed?
We must learn how to convey what international cooperation is about today. Today's international cooperation is not what it was 30 years ago. The world has changed and with it, communication. We now share a common language at international level: the 2030 Agenda. Countries have other concerns; they need a response tailored to their own needs, which differ from those of donor countries. What kind of impact are we making today with our interventions? How can we correct mistakes? How can we respond to changing needs? We are answering these questions within the SDC by recognising how the young people pursuing our international cooperation career path play an innovative role in achieving the 2030 goals.
Part of looking to the future, with a common language that speaks of sustainability, is taking stock of the present. Where is Swiss international cooperation headed over the coming 60 years?
Our international cooperation strategy and the 2030 Agenda are our benchmarks. Internally, all SDC staff were involved in a stocktaking process to elucidate what we can do to improve our work. The feedback coalesced around a core message: we need to make our instruments interact with each other even better and deploy them in a more coordinated way. This includes getting people to interact better, between Bern and the cooperation offices around the world, which are essential for a continuous reality-checking process. Communication – within the SDC and with Parliament, the public and partners – will play an increasingly crucial role. And above all, we must never lose sight of the needs of the communities in which we are working. What kind of added value can we contribute as a Swiss cooperation agency, compared to other actors? This is the question we must constantly be asking ourselves.
Does that mean we need a new Swiss Agency for Development and Cooperation?
We have everything we need within reach; the task now at hand is to combine the components even better. This is why we are aiming to refocus the SDC on issues and on the links between our various instruments for rapid and long-term intervention. We want to influence international cooperation policy through our actions in the multilateral arena and through our external network. And we hope to attract young talent and ignite in them a passion for this work, which is done in fragile contexts, hand-in-hand with communities, but also in the high-level decision-making forums where these issues are debated and where Switzerland enjoys a solid reputation and can make a real impact.
 International cooperation
Switzerland's international cooperation is based on its Foreign Policy Strategy and aims to combat poverty in developing countries and to contribute to their sustainable development. To achieve this goal, Swiss international cooperation efforts pursue a three-pronged approach deploying humanitarian aid, development cooperation and multilateral engagement. (Switzerland's International Cooperation Strategy 2021–24)