Switzerland and Bangladesh: 50 years of working towards increased prosperity
This year marks the 50th anniversary of bilateral relations between Switzerland and Bangladesh, beginning with Bangladesh's founding in 1972. Since then, Switzerland has been aiding the South Asian nation with its economic and social development. Swiss ambassador Nathalie Chuard shares insights into Switzerland's activities in Bangladesh, a country that is currently on the upswing despite its numerous challenges.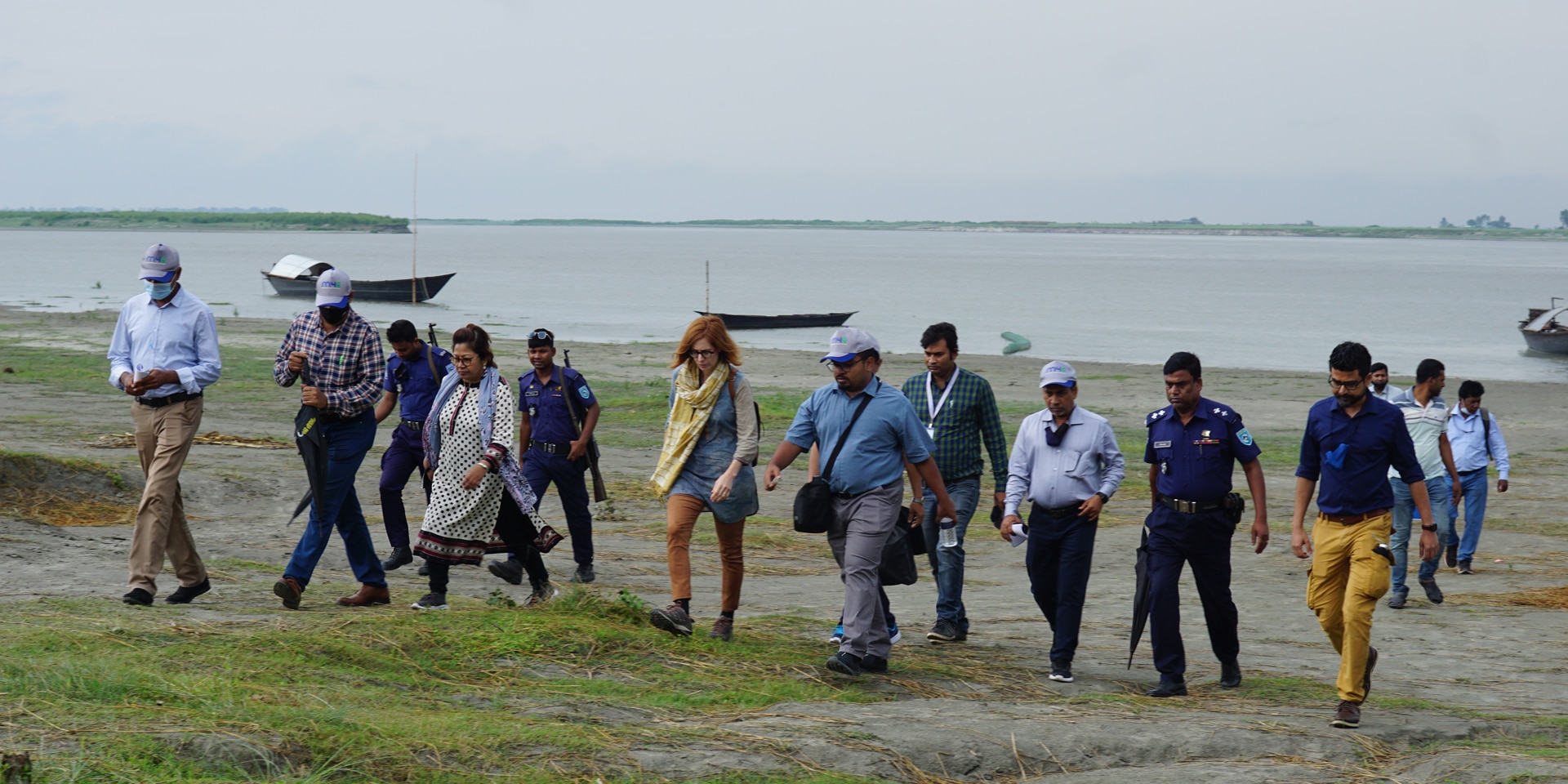 A project for developing the agricultural market on Bangladesh's river islands is helping countless households generate additional income. © Swisscontact, Sukanta Saha
"Water is the mother of our country," goes a saying from Bangladesh. "It is a giver of life, not a bringer of death." Indeed, the country's tropical climate, with its dry and wet seasons, guarantees fertile soil and three rice harvests per year. However, strong monsoons, cyclones and flooding are also part of the dangerous realities of life for the local population. Because of its geographic location in the world's largest river delta – just a few meters above sea level – Bangladesh is especially hard hit by the consequences of climate change.
The Swiss ambassador in Dhaka, Nathalie Chuard, confirms the country's vulnerability: "In addition to climate change, Bangladesh is currently confronted with an array of global challenges. That's why we want to continue our cooperation and support for the country, particularly when it comes to adapting to climate change.
A solid 50-year partnership
"2022 is a very special year for Bangladesh and Switzerland: Our bilateral relationship turns 50 this year," explains Chuard. According to the ambassador, the two countries have built a solid partnership in numerous areas since Bangladesh's founding, ranging from humanitarian aid and international cooperation to trade and investment and political and cultural issues. Over time, she says, Swiss-Bangladeshi relations have developed to keep pace with changes around the world and in Bangladesh itself.
When it comes to global sustainability goals, the countries are aligned, confirms Chuard: "Switzerland and Bangladesh are both committed to the UN's 2030 Agenda and a vision of a world where no one is left behind." Since the clock is ticking, says the ambassador, we now need to redouble our efforts following the pandemic to achieve the goals that have been set. "The sustainable development goals are at the heart of our work and are a compass that we use to guide our actions," she says.
Switzerland and Bangladesh are both committed to the UN's 2030 Agenda and a vision of a world where no one is left behind.
Nathalie Chuard
Chuard points out that Switzerland has thus far invested more than CHF 1 billion in programmes for democratic governance, labour migration, agriculture, income and economic development as part of the country's international cooperation strategy. "Since 2017, our country has also contributed extensive humanitarian aid to assist with the Rohingya crisis and has provided more than CHF 50 million for supporting refugees and host communities," she says.
More income for small farmers on river islands
New partnerships with the private sector have been established to give a helping hand to marginalised populations, for instance in an ongoing project on the river islands in the north of Bangladesh.
The region's Char islands are home to millions of impoverished small farmers who regularly have to move due to their farmland being flooded by the river. The environmental conditions are difficult, and the region also lacks a functional agricultural market as well as qualified workers and services. New investors and service providers have been found thanks to the 'Making Markets Work for the Chars' project, which was jointly launched by Swisscontact on behalf of the SDC and the Bangladeshi Ministry of Rural Development. Within a ten-year period, this project has given nearly 200,000 households the opportunity to generate extra income.
"I have seen what a difference this project was able to make for the Chars and was impressed by the eagerness of the island farmers to seize those opportunities," says Chuard.
Bangladesh: a country on the upswing
Even though large segments of the population can still barely meet their basic needs, the economy in Bangladesh has quintupled over the past few decades.  "Swiss companies, which are known here for their reliable, high-quality goods and services, have also contributed to more employment and economic growth in Bangladesh," says Chuard. 
Progress is also being made in social development, healthcare and education: child and maternal mortality have decreased significantly, and life expectancy has risen. Women are important players in business and society at large, and there is compulsory schooling for both girls and boys.
"Bangladesh is at a crossroads. The country is on track to lose its status as one of the least developed countries by 2026. We are aiming for this transition to be sustainable and socially inclusive in line with our new cooperation programme for Bangladesh for 2022–25. We also see great potential for expanding trade and investment relationships and for closer cooperation in technology and knowledge partnerships," says Chuard.