"We want to bring sustainable clean drinking water to poorer countries"
Today two billion people throughout the world are still without access to clean drinking water. The start-up enterprise Openversum, winner of the Community Award of the Youth and Future Prize 'Together we're better', wants to change this: a locally produced drinking water filter would grant affected populations access to clean drinking water. Olivier Gröninger and Julián Salazar's team have now presented their project in New York at the Hult Prize finals – the 'Nobel prize for students'.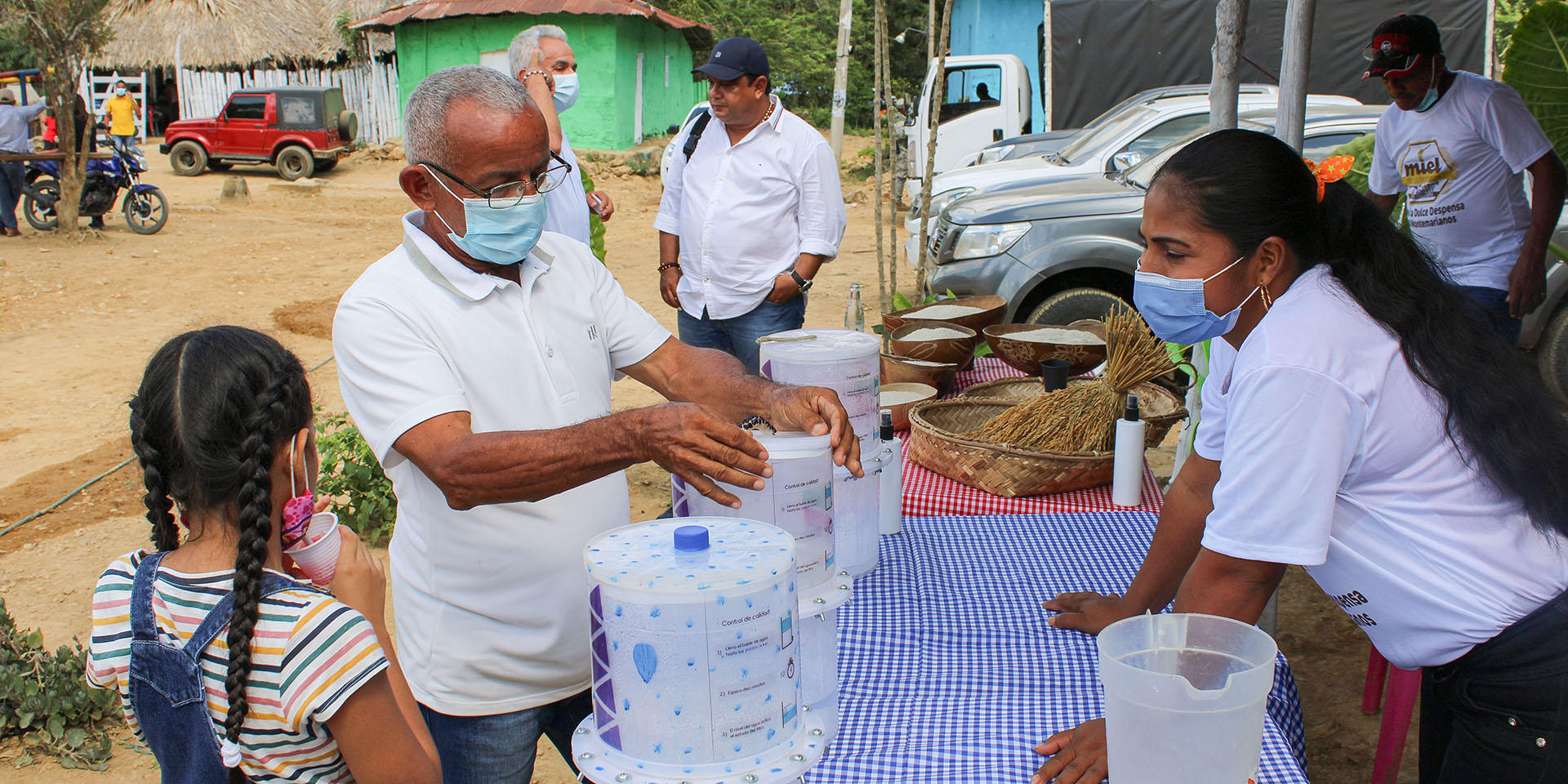 Two pilot projects have already been implemented in Colombia and Ecuador – providing 400 people with access to clean drinking water. © Openversum
Julián Salazar, what sector does Openversum work in?
Two billion people across the world have no access to clean drinking water, with devastating consequences: every year 300,000 children under the age of five die from diseases caused by contaminated water. That is why Openversum wants to bring sustainable clean drinking water to poorer countries: we train local tradespeople to produce drink water filters, which they can then use and sell, thus becoming water contractors themselves.
The drinking water filter is inexpensive, environmentally friendly and eliminates 99.99999% of bacteria, heavy metals and chemicals found in water. In addition, the filter is designed to prevent water from being recontaminated. To date Openversum has transformed contaminated water into drinking water in pilot projects for over 400 people in Ecuador and Colombia. Various partners have shown interest in introducing the system in other locations in Latin America and Africa.
How did the idea for a water filter come about?
When our CEO Olivier was living in Colombia, visiting rural areas across Latin America, he just couldn't believe how many people were still drinking contaminated water. During his PhD in Chemical Engineering at the Federal Institute of Technology Zurich (ETH Zurich), this motivated him to address the question of how existing water technologies could be adapted to make it easier for people to access clean drinking water. Under the supervision of Professor Wendelin Stark, expert in nanotechnology, Olivier developed a drinking water filter that produced the desired results.
How was Openversum founded?
To extend the impact of his project, Oliver planned to set up a company after graduation. At a conference he met the environmental engineer Laura Stocco, who has extensive experience in water projects, and me.
Thanks to my network in Colombia, where I was born, we want to extend the reach of the project. Lorenzo Donadio, a former fellow student of Laura's and a friend of mine, also joined us. He completed our team with his environmental engineering and data science skills. With Openversum, we founded a sustainable business to improve the lives of millions of people. Our love for people brought us together and together we have been able to make our vision come true: to enable local entrepreneurs to improve life in their community. Because it was apparent that not only would the water filters need introducing locally, but also the knowledge of how the filters are made and used would have to be passed on locally. That is why we provide local people with the skills to establish a water company, and to manufacture, use and sell water filters. Microfranchising is the tool we use to do this: small entrepreneurs adopt this business model and can then grow the business in their local area.
What help did you and your team receive from the SDC and SECO?
Openversum won the Community Award at the 'International Cooperation Forum Switzerland' – a forum organised by the SDC and its partner organisations to promote dialogue around solution-oriented approaches in developing and newly industrialised countries. The prize money of CHF 4,000 was presented to us in person by President of the Swiss Confederation Ignazio Cassis. We were motivated to take part in 'Together we're better' because they were looking for sustainable projects with a strong impact. In the end we won not only the prize money but more importantly gained the community's trust and a platform on which we could present our project.
Openversum recently participated in the finals of the Hult Prize – the 'Nobel prize for students'. What did that mean to your team?
Originally 10,000 teams entered for the 2022 Hult Prize, so we were very proud to be among the six finalists. In New York we got to be the first Swiss team to promote our project on a big stage. Our aim was to convince the highly qualified jury and potential investors of our project so that our technology could be made available as quickly as possible to as many people as possible.
The goal of the Hult Prize is to solve the planet's most pressing issues. This year's theme, 'Getting the World Back to Work', focused on goal number 8 of the 2030 Agenda's 17 Sustainable Development Goals: decent work and economic growth. Our project, which creates local jobs, was perfectly suited to enter the competition. Altogether the Hult Prize competition took one year. We went through the different phases starting with the programme at the ETH Zurich to the regional summit, where we won participation in the Global Accelerator and then on to the finals.
What advice would you give to young people who also have a good idea for a project and are considering the next step?
It's essential to have stamina, mental flexibility and of course pleasure in what you're doing. It's also important to never lose sight of the bigger picture – with that I mean what you are working for. We often use numbers – the number of filters sold, CO2 saved, or revenue. But ultimately, behind every number is a person or family who now has access to clean water.
Youth and Future Prize 'Together we're better'
In 2021/22 the SDC and SECO held the second edition of the Swiss Youth and Future Prize 'Together we're better'. Once again, the search was on for projects, initiatives and ideas from young people from Switzerland under the age of 35 to contribute to sustainable development and poverty reduction in low and middle income countries. The Youth and Future Prize is a recognition of the commitment of young people who are actively contributing to achieving the 2030 Agenda's sustainable development goals (SDGs).
This year's winners are:
The next edition of 'Together we're better' will be held in 2023/24.
Many young people in Switzerland are becoming involved in projects far beyond the country's borders. To lend visibility to this commitment, the SDC launched the SDC's Youth and Future Prize. Within the framework of the International Cooperation Forum, participants were able to present their project, learn from one another and extend their networks. Discussions with the President of the Swiss Confederation were an emotional highlight, encouraging participants to continue with their commitment to a fairer world.
Geneviève Federspiel Singh, project leader of the SDC's 'Together we're better'