Gazan IT Talents Join Swiss Start-Ups and Research Labs
Five young and ambitious data science entrepreneurs from the Gaza Strip embark on a life-changing journey to Switzerland. For the coming four months, these talented individuals are getting exposure to an international working environment as interns in Swiss start-ups and research laboratories at prestigious universities in Lausanne and Fribourg.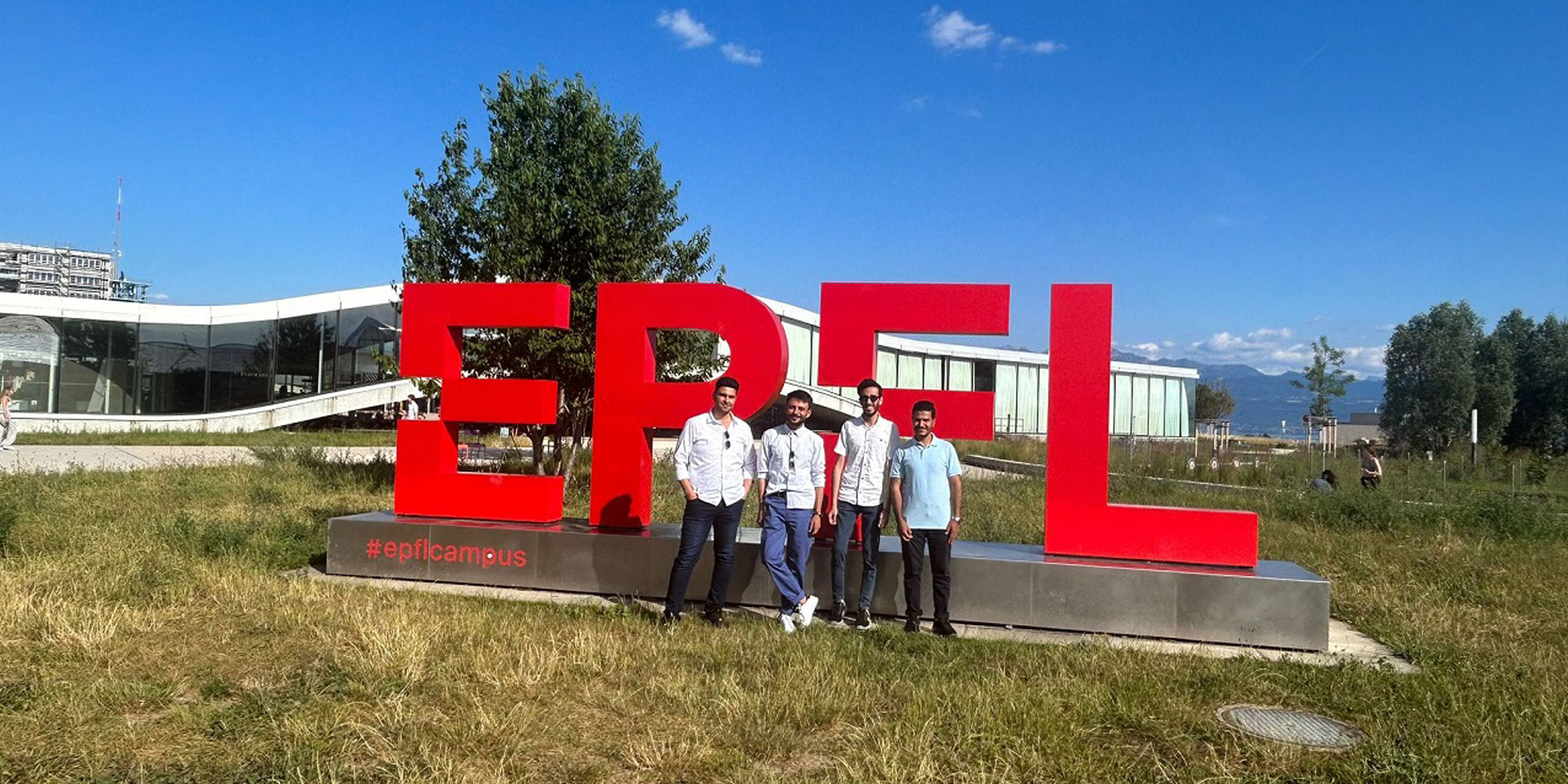 Young data science entrepreneurs from the Gaza Strip on the EPFL Campus. From left to right: Nizar Zaqout, Mohammed Abu Amira, Khalid Elejla and Ameer Alzerei. © SDC & UCASTI
The internships are provided by "Bridges to Growth" – an SDC programme aiming to enhance knowledge transfer and foster youth employment in the oPt. Partners of the project are the Swiss Federal Institute of Technology in Lausanne (EPFL), the University of Applied Sciences (HES-SO) in Fribourg and the University College of Applied Science Technology Incubator (UCAS TI) from Gaza. The primary objective of Bridges to Growth is to enhance the capacities of Palestinian graduates in an international working environment and create lasting linkages and trust between the Swiss start-up scene, academia, and their peers in the occupied Palestinian territory.
Nizar Zaqout is one of the five participants in the program. He is a web developer specializing in cyber security, and was previously working as an instructor for Amazon Web Services in the Gaza Strip. In April, he joined A-LL Creative Technology, in Fribourg. This start-up collaborates with artists and brands to deliver sensory-driven experiences using the latest technologies, comprising artificial intelligence, virtual reality, and augmented reality: 
«Frankly, this is a new experience. As a citizen from the Gaza Strip, it is my first time traveling. This will impact several fronts, including cultural aspects and getting to acquaint myself with new people. On my return, I aspire to transfer the learnings from Switzerland to the Gaza Strip, by sharing the experiences I went through and explaining how the software development life cycle works. Secondly, I intend to build an integrated team, as there are many qualified people in the Gaza Strip from various work backgrounds, like back-end and front-end development, data analysis, and cloud computing.»
Basem Khalaf is majoring in artificial intelligence and data science. In the Gaza Strip, he used to work as a network engineer for Ooredoo. He has now joined the team of Swiss EdTech Collider, a big data clean energy intelligence company that has developed a software to automatically detect and predict faults in solar panels: 
«This 4-month experience in a company in Switzerland will be sufficient to expose us to a new society and culture. I am looking forward to a great experience for me and my community, particularly the Gaza Strip. It will also constitute an opportunity for cooperation and networking with the European market in general.»
The Bridges to Growth program is open to last-year Bachelor's and Master's students, as well as young professionals who have graduated within the past five years. Over this two-year project, two dozen Gazan students will be offered an internship scholarship. Furthermore, as part of the selection process, forty of them will attend a remote training in machine learning designed and delivered by the EPFL Extension School.
Abdallah Altahrawi, Programs Director at UCASTI:
«The importance of the Bridges to Growth program cannot be underestimated, as it provides a rare opportunity for Palestinian engineering students to access the Swiss tech ecosystem, known for its cutting-edge innovations and global impact. This exposure will not only enhance the professional development of participants but hopefully also contribute to the growth and upgrade of the Gazan tech ecosystem upon their return.»
While the first cohort of students is immersed in their internships in Switzerland, the second cohort is already in preparation. Out of 380 applications, seven candidates will be selected, with a majority of women among the shortlisted candidates.
In the frame of its Near East Cooperation Programme 2021-24, Switzerland is stepping up its engagement in the digital economy and entrepreneurship. The tech sector contributes to diversifying and connecting the Palestinian economy to global markets and create dignified jobs for youth.