Biodiversity – Mankind's Life Insurance Policy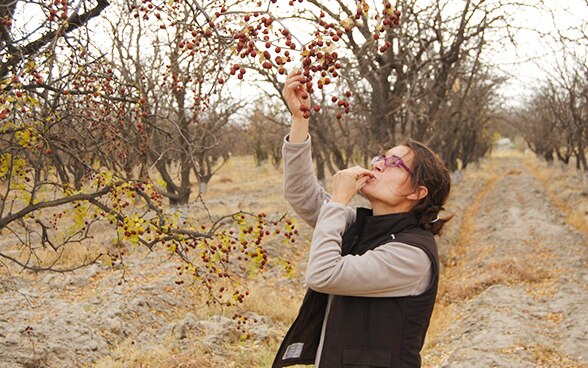 Our planet has remarkable biological diversity. Biodiversity ensures that people have the vitamins and minerals they need and is therefore crucial for food security. The SDC is committed to the preservation of biodiversity and takes due consideration of local knowledge and traditions in its projects.
The SDC's focus
Biodiversity is an important factor for a balanced and healthy diet. Biodiversity guarantees adequate nutrition. The SDC is not only committed to securing enough food for all, but also to a balanced and healthy diet for all. The preservation of biodiversity plays a crucial role in this respect. Within the framework of its food security efforts, the SDC places particular emphasis on agrobiodiversity, i.e. the diversity of useful plants.
At the global level, the SDC participates in efforts to preserve the most frequently used crop varieties such as maize, rice and potatoes. It funds seed banks that ensure the proper storage of seed varieties in developing countries.
The SDC is also interested in the improvement of existing seed systems. The aim is to build on expert knowledge to preserve traditional seed systems and combine them with modern systems. In collaboration with Bioversity International, a research organisation active in Uzbekistan, other parts of Asia, South America and Africa, the SDC is helping local farmers to cultivate, process and market improved crop varieties.
Local people play an important role in the preservation of biodiversity in each country. They have knowledge about native plants and traditional land use practices. The SDC takes this aspect into consideration in its biodiversity projects. It works with local, regional and global institutions to ensure that local populations in each country accept and maintain the sustainable use of ecological systems.
Background
To cope with biodiversity today is a challenging undertaking. On the one hand, the conversion of natural ecosystems into large tracts of agricultural land results in more agricultural production and a better food supply. On the other hand, however, these developments threaten biodiversity and thereby the self-sufficiency of local populations. The challenge is to use agricultural land considerately for the benefit of all stakeholders. Biodiversity is also important for medical research. Natural and wild plants often are the basis for developing medicines.
According to the Food and Agriculture Organization of the United Nations (FAO), although 30,000 plant species are edible, only 30 plant species are used to meet 95% of the world's food energy needs. Half of the calories consumed globally come from three crops: maize, wheat and rice. This specialisation on a small number of grain and vegetable crops is inherently risky. Sufficient genetic diversity of crops provides long-term protection against unexpected plant pests and diseases.