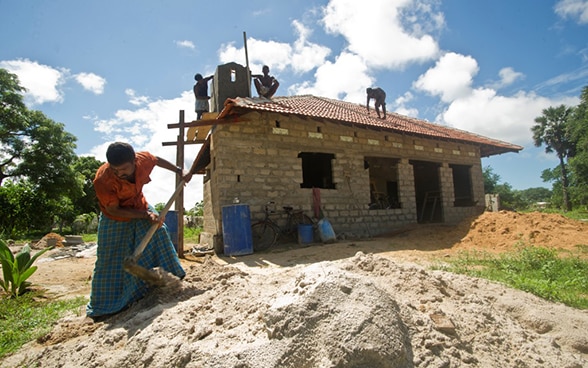 Cash transfer programming (CTP) enables victims of natural or man-made disasters to purchase items to meet their individual needs through the provision of cash. SDC uses CTP both as an immediate emergency aid and in shelter rehabilitation and livelihood restoration.
SDC focus
The distribution of cash to host families who take in refugees or the provision of construction materials from local markets in the aftermath of an earthquake are just two examples of cash transfer programming in the activities of Swiss Humanitarian Aid (SHA).
From 1998 to 2016, experts from the SHA Unit implemented more than 29 CTP projects in 29 countries. These activities contributed to meeting the basic need for a livelihood, shelter, water and sanitation, and food of people affected by war or natural disasters.
CTP is one form of humanitarian response. It is based on the principle that people affected by war or natural disasters best know their own needs. Through the distribution of cash or vouchers, CTP gives them the possibility to purchase food, water and other humanitarian items that the beneficiaries themselves can choose.
Including local assets in humanitarian actions
Although basic goods such as food and water can often be purchased on local markets, donors and aid agencies have often given priority to the shipment of tons of aid materials to crisis-affected regions from their own country. In most cases this has a negative impact on the local economy as local merchants are faced with a huge influx of free goods and items that they cannot compete with.
CTP however includes local vendors and markets in humanitarian efforts. By shifting the place of purchase from the global to local market, it enables shop-owners or local famers to keep running their businesses despite all the suffering created by war or natural disasters. Relying on existing service providers and encouraging local solutions can also facilitate the transition to recovery. Finally, CTP reduces logistical costs both in terms of time and money as the delivery of humanitarian items does not involve long distances.
Careful planning and analysis of the market and beneficiaries are key to a successful CTP project. Besides a functioning market, a reliable system of payments must be available where CTP is applied. Most importantly, beneficiaries and the communities concerned must agree with this aid modality.
Background
The SHA strongly advocates for the increased use of CTP in emergency situations while underlining the challenges related to ensuring the good quality of cash programs.
Despite widespread recognition of its relevance, the use of CTP by humanitarian agencies remains relatively low compared to more traditional ways of assistance such as in-kind distribution. For this reason, SHA and the Cash Learning Partnership (CALP) are working together to disseminate knowledge about the use of this methodology among humanitarian practitioners, develop training materials, and explore further techniques in the use of CTP, especially with new technologies.
To support its multilateral partners in the implementation of CTP projects, experts from the SHA Unit are deployed to the UN's main partners such as WFP and UNHCR. Similar support can be offered by SHA to Swiss or international NGOs.