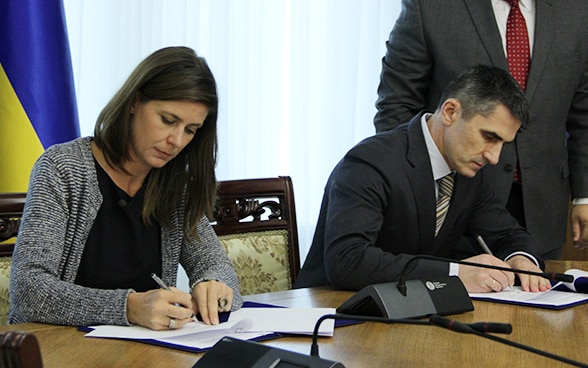 Former Ukrainian President Viktor Yanukovych is accused of having stolen considerable sums of money. While the complexity of the system Yanukovych had in place makes it difficult to put a precise figure on the amount embezzled, it is estimated to be in the hundreds of millions of dollars. After Yanukovych was deposed and fled Ukraine in February 2014, several countries – Switzerland included – froze his assets as well as those of several members of his inner circle.
However, there is still a long way to go before these funds can be returned to Ukraine. Ukraine must in fact provide evidence that the assets were obtained illegally in order to ensure that they can remain frozen and that the necessary steps can be taken for their return. This entails a great deal of work, notably in terms of investigation, and represents a major challenge for Ukraine, which severely lacks both technical and human resources in this domain. This is why Switzerland took the decision to assist it in this matter. This project fits in with Switzerland's strategy on stolen assets, one of the objectives of which is to return assets as quickly as possible while respecting the rule of law.
Strategic and technical assistance
Since December 2014, the project has essentially focused its efforts on strengthening the Prosecutor General of Ukraine's team. Its first priority is providing technical and strategic assistance in the form of a financial investigation expert on secondment to Ukraine. This expert works for and in close collaboration with a group of experts from the International Centre for Asset Recovery (ICAR) in Basel. ICAR has been mandated by the GPO to assist in identifying and recovering the assets suspected to have been stolen by former President Yanukovych.
The expert's role is to help the GPO draw up and implement a coherent and effective investigation strategy concerning the financial crimes of which the former President and his inner circle are accused. This entails in particular profiling the suspects, their network and their assets as well as helping to submit requests for mutual legal assistance.
This collaboration has already brought significant progress. Ukraine has submitted numerous requests for mutual legal assistance to various foreign jurisdictions, including Switzerland. These will give the GPO access to more extensive information that will allow it to move its investigations forward. In addition, the advances made in certain investigations have contributed to keeping a number of individuals on the list of persons subject to European sanctions.
Better training for investigators
The project's second priority is strengthening the investigators' knowledge and capabilities in the areas of financial investigation and asset recovery. Various tools are planned for this purpose. Several investigators and magistrates working on cases linked to the old regime have already benefited from training that mixes practical exercises with theory tuition. This training is also intended to improve cooperation between different branches of the government.
The project additionally offers the investigators online training modules that allow them to get to grips with the various methodologies of financial investigation. The investigators now have a practical guide on recovering stolen funds to refer to in their day-to-day work.