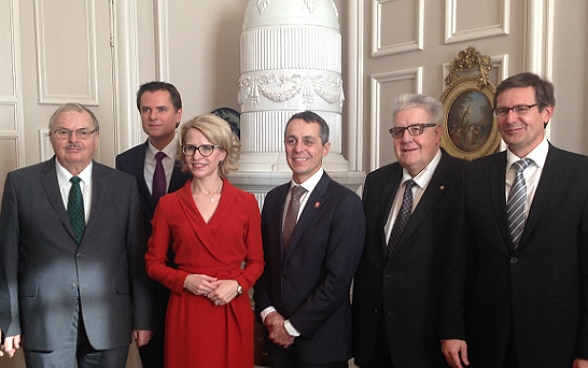 Over 100 treaties regulate bilateral relations between Switzerland and Liechtenstein; numerous meetings take place between representatives of the two states at all political levels. Some 10,000 people from Switzerland go to work in Liechtenstein every day. Nearly 1,800 Liechtenstein cross-border commuters travel in the other direction to work in Switzerland. Today's talks between Ignazio Cassis and Aurelia Frick at the Von Wattenwyl House once again confirmed the high quality of relations between the two states. Mr Cassis said the fact that he had already spoken with his Liechtenstein counterpart three times since elected to the Federal Council – on the phone shortly after his election, during the OSCE Ministerial Council meeting in Vienna and now today in Bern – showed the importance accorded to Switzerland's closes neighbour.
The meeting focused on the development of relations between Switzerland, respectively Liechtenstein and the EU, especially in light of the current challenges. Topics covered thus included the situation following the UK's decision to leave the EU.
Also mentioned was the EU's reported monitoring of the adaptation of Switzerland and Liechtenstein's tax regulations to international standards. Mr Cassis and Ms Frick were in agreement that this was inappropriate with regard to either state, since Switzerland and Lichtenstein had already stated their willingness to abolish tax regimes that do not comply with the international standards.
International topics were also covered in today's meeting. The two foreign ministers spoke in particular about the work under way in the UN, where cooperation between the two states is particularly strong. Switzerland and Liechtenstein are working towards the same goals in the UN, especially on human rights, international responsibilities and international jurisdiction. Last week the International Criminal Court's jurisdiction over the crime of aggression was activated thanks to efforts by Switzerland and Liechtenstein.
---
Further information:
Bilateral relations Switzerland-Liechtenstein

---
Address for enquiries:
Information FDFA
Bundeshaus West
CH-3003 Bern
Tel.: +41 58 462 31 53
Fax: +41 58 464 90 47
E-Mail: info@eda.admin.ch
---
Publisher: