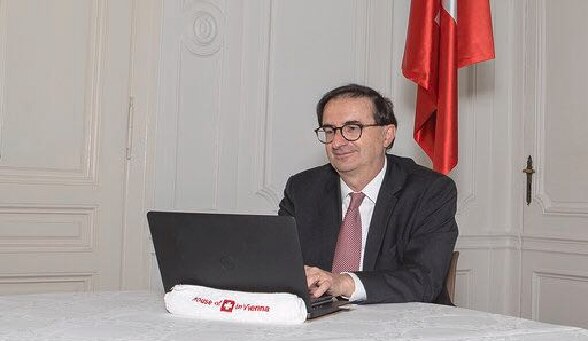 I am pleased to welcome you to the website of the Permanent Mission of Switzerland to the Organization for Security and Co-operation in Europe (OSCE), the United Nations (UN) and other International Organizations.
The Permanent Mission of Switzerland is a centre of expertise for matters concerning Swiss security, peace and human rights, prosperity, the rule of law, and sustainable development policies in Vienna. It defines the objectives and priorities of the Foreign Policy Strategy 2020–23, working in collaboration with the many other international organisations present here in Vienna. In addition, it ensures and coordinates the communication between the Swiss authorities and the international organisations here in Vienna, promotes contacts with decision-makers and identifies opportunities for Switzerland to participate in projects carried out by these organisations. We seek to foster a rules-based international order and multilateralism through effective projects. "The House of Switzerland in Multilateral Vienna" has provided a new platform for talks, educational courses and diplomatic activities.
The COVID-19 crisis has, of course, also had its impact here in Vienna. The multilateral organisations represented in this city also necessarily need to adapt to the associated challenges and themselves find ways to overcome them.
We would be glad to receive your ideas, thoughts and suggestions in relation to the above issues. You can contact me at
wolfgang-amadeus.bruelhart@eda.admin.ch.