Added Value – Contributions to gender equitable economic development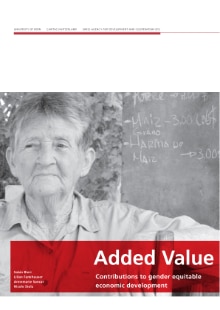 This brochure (93 pages) explains the relevant instruments of economic promotion used by the Swiss Development Cooperation (such as microcredits, markets for the poor M4P, employability, value chains). The analysis uses a gender perspective and a rights-based approach, taking into account the care economy, in order to illuminate the conflict areas of a development cooperation that rests on the premise of economic growth. The authors use expert contributions and conversations with people working in development cooperation and illustrate their arguments using concrete case studies.
The French version cannot be ordered anymore.