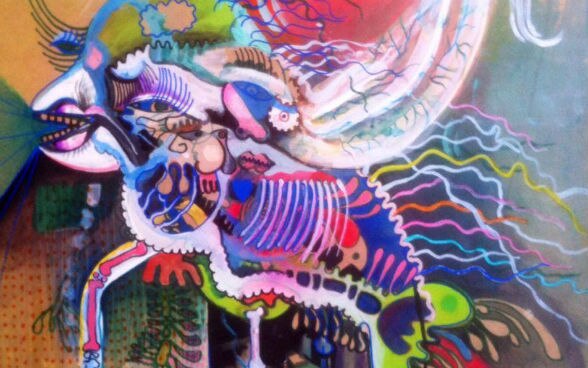 This project of residence is launched as a platform for the young artists from Francophone countries to gain international experience in the field of engraving and to build up networks with other artists. It also helps to showcase the creativity of artists from Francophone countries in China. Young people, the changing force and peace messenger, is targeted as the priority in Francophone cultures and also the core asset of the project.
The creation will be under the guidance of the mentor Li Yi, artist and Honorary professor from Tsignhua University, who ensures the smoothness of the creative processes while giving professional advices to the group and increasing exchanges and interactions among them
The project is initiated by the Wallonia-Brussels Delegation in Beijing, the Offices of Quebec in China, and the Embassies of France and Switzerland. It is in collaboration with the Xu Yuan Engraving Center, the Bureau International Jeunesse (BIJ) of Wallonia-Brussels, the International Youth Offices of Québec (LOJIQ), the Franco-Quebecois Youth Office (OFQJ) and the Zhongren Cultural Center (Liège). 
Swiss artists: Léonie Vanay
Born in Monthey in Switzerland in 1988, Leonie Vanay received her Bachelor's and Master's at Geneva University of Art and Design (HEAD Geneva) in 2013. Since she finished her studies, she has been living between Bex, the canton Vaud and Lausanne and has a workshop in Lausanne where she pursues her artistic research. Since 2009, Vanay has exhibits regularly in different regions of Switzerland, France and Germany. Parallel to her personal practices, since 2012, she has been the co-director of the independent art space Urgent Paradise in Lausanne. 
During her studies, Vanay was primarily dedicated to sculptures and installation, with a minor in painting with which she studied the particular use of colors and lines. For the last two years, her daily practices focused on engraving on wood, with special attention paid to the shapes, patterns and structures of her sculptures.
Her etchings are printed in black on white paper whose textures vary. They are then painted in monochrome color which gives expression to the particular texture of the paper and the traces of wax.
The motifs are inspired by symbols, existing letters and imaginary alphabets as well as current patterns in printed textiles. Vanay continues her research on abstract writing and signs for several years with other techniques (drawing, batik fabric, plaster, text). The series of engravings shows ingenious juxtaposition of forms and motifs, which gives the engraving a perfect presentation. The selected wood is poplar plywood, which is flexible, light and tender that reveals the texture of wood for printing. In turn, it reinforces the sculptural aspect of the images. 
Yvan Gogniat
Born in 1992 and settled in Saignelégier, Jura, Switzerland, Yvan Gogniat has explored his academic career in engraving at the Art School of La Chaux-de-Fonds, from where he developed his technical skills in classic chisel engraving, a special technology used in the decoration for watch dials and hands. After having obtained his certificate as professional engraver (CFC), Yvan Gogniat accumulated rich experience in practice in Switzerland and then went to Australia for a language training course.
Early 2015, after a 6-month internship, Yvan Gogniat took over Mr.Yvan Jacot's photogravure workshop in the city of La Chaux-de-Fonds, a workshop specialized in decal-making on watch dials. From then on, he launched his professional career as an engraving artist as well as customized graphic designer. His talent of creativity allows him to expand his working field in paintings and even in indoor design. He was just assigned to decorate the historical building of the Hotel de la Fleur de Lys in Le Locle (Neuchâtel).
Despite his young age, Yvan Gogniat has created his own artistic style. Greatly influenced by Picasso and Jean-Michel Basquiat, he invented a realm filled with bestial and absurd figures. He also draws inspiration from his hometown Jura, the region which endows him a great deal of imagination and realization. He paints his fellow countryman with an originality of Sapin Style, a unique artistic practice originated in La Chaux-de-Fonds early twentieth century.