Consulate General of Switzerland in Shanghai
The Consulate General of Switzerland in Shanghai will be closed on October 21, 2021 due to a team event.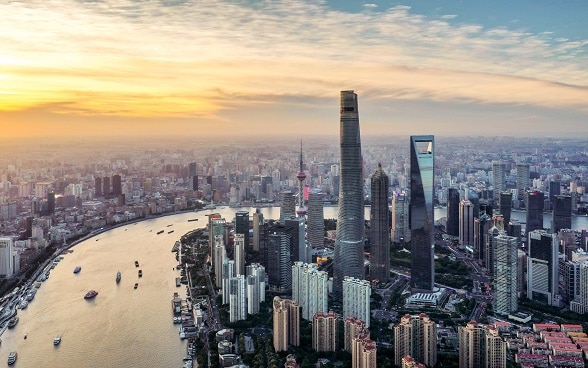 The Consulate General is responsible for the Swiss community living in the provinces of Anhui, Jiangsu, Zhejiang and the municipality of Shanghai. The Swiss living in and around Shanghai have regular occasions to meet and socialize at various events organised by Swiss organisations in the city. There are currently about 600 citizens registered at our Consulate General, most of them in Shanghai itself, which makes it a lively and interesting community to be part of.
COVID-19
Situation in Switzerland
Check the website of the Swiss health authorities on the current situation in Switzerland.
Travel to Switzerland
Since 26 June 2021, Switzerland is open again for non-essential travels for vaccinated travelers from third countries. If travelers state that they have been fully vaccinated against COVID-19 and the last vaccination was administrated less than 6 months ago, they can apply for a short-term Schengen visa type C. Regarding the recognized vaccines, please refer to the Federal Office of Public Health (FOPH) and scroll down to COVID-19 vaccination requirements.
Entry restrictions continue to apply for third country nationals who are not vaccinated and who do not belong to any of the exceptional categories of the COVID-19 Regulation 3.
To determine which rules apply to your own particular situation when entering Switzerland, you may consult the online Travelcheck from the FOPH.
For information on how to book an appointment and submit a visa application, please visit the website of VFS Global.
For additional Information, please consult the webpage of the State Secretariat for Migration SEM.
In response to the COVID-19 pandemic there are special health-related measures for people entering Switzerland. Please refer to the information of the Federal Office of Public Health (FOPH)
For further questions regarding visa matters please contact us via: shanghai.visa@eda.admin.ch
Vaccination (Yangtze-Delta)

Official information from the local authorities can be found on the websites of the respective provinces (only in Chinese): Shanghai, Anhui, Jiangsu, Zhejiang. The information is updated continuously.
Travelling back to China
For more information on the requirements of the Chinese authorities to return to China after your stay in Switzerland, consult the webpage of the Embassy of the People's Republic of China in Switzerland or the Consulate General of the People's Republic of China in Zurich.
Consular Section (not for visas)
In case of emergency, consular services remain also available outside office hours:

Helpline of the Federal Department of Foreign Affairs (FDFA): +41 800 247 365, +41 58 465 33 33, helpline@eda.admin.ch