Consulate General of Switzerland in Shanghai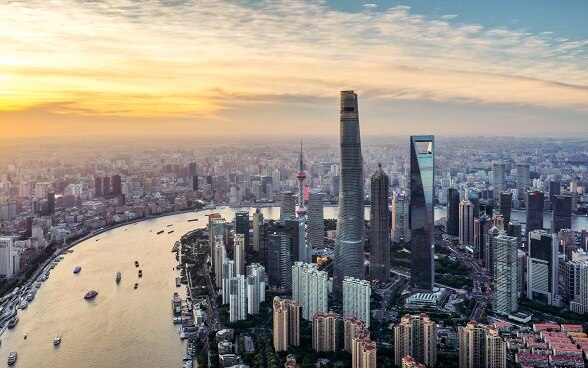 The Consulate General is responsible for the Swiss community living in the provinces of Anhui, Jiangsu, Zhejiang and the municipality of Shanghai. The Swiss living in and around Shanghai have regular occasions to meet and socialize at various events organised by Swiss organisations in the city. There are currently about 610 citizens registered at our Consulate General, most of them in Shanghai itself, which makes it a lively and interesting community to be part of.
COVID-19
Situation in Switzerland
Check the website of the Swiss health authorities on the current situation in Switzerland.
Travel to Switzerland
From 08.02.21 onwards all persons (except children under age 12) arriving in Switzerland by air must be able to show a negative PCR test before boarding the plane and fill out an entry form. You can find more information in this regard and about entering Switzerland in general here.
Information on the current visa restrictions for people entering Switzerland from China can be found on our webpage or on the website of the State Secretariat for Migration SEM.
For questions regarding visa matters please contact us via: shanghai.visa@eda.admin.ch
Travelling back to China
For more information on the requirements of the Chinese authorities to return to China after your stay in Switzerland, consult the webpage of the Embassy of the People's Republic of China in Switzerland.
Vaccination
The currently valid communication of the FDFA on the subject of vaccinations for the Swiss abroad can be found on the website of the Swiss Community.

Official information from the local authorities can be found on the websites of the respective provinces (only in Chinese): Shanghai, Anhui, Jiangsu, Zhejiang. The information is updated continuously.
Consular Section (not for visas): In case of emergency, consular services remain also available outside office hours:
Helpline of the Federal Department of Foreign Affairs (FDFA): +41 800 247 365, +41 58 465 33 33, helpline@eda.admin.ch
Communication of 04.11.2020 on travelling back to China (PDF, 298.2 kB, English)
Communication of 28.09.2020 on travelling back to China (PDF, 323.8 kB, English)
Media release of 31.08.2020 (PDF, 234.5 kB, English)
Communication of 28.08.2020 on travelling back to China (PDF, 384.5 kB, English)
Media release of 19.03.2020 (PDF, 280.7 kB, English)