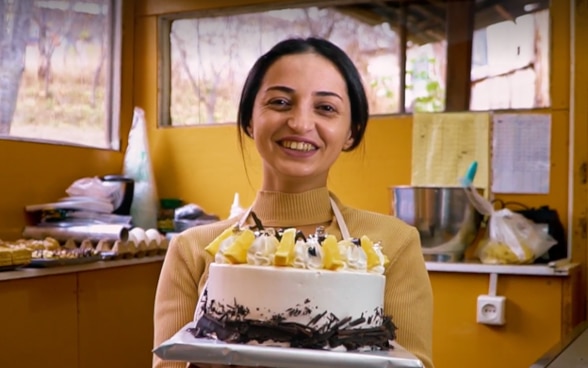 Veronika Bakhchoyan lives in the town of Vale (approx. 170 km away from Tbilisi) in the Akhaltsikhe municipality. She was 15 years old when she learned to bake from a local baker during a month of her summer break.
"I have always been fond of baking. Since my early childhood, I would entertain myself by baking cakes putting my heart and soul into the craft. What was my passion has turned into my profession. I studied at the professional VET college in Akhaltsikhe for three years. I am a certified confectioner now."
Veronika's road to success was bumpy. She started her small business barehanded. Kneading dough by hand, she could only bake one cake a day. The only way to buy the necessary equipment to extend her business and live up to an increasing demand was to mobilize additional resources. Coming from the Armenian-speaking community, she was sceptical about state grants programmes. 
The ethnic minorities in Georgia have historically struggled to access state grants programmes due to language barriers (all applications must be in Georgian), a lack of information on what is required to apply, and a perception that the programmes are not targeted towards them. In 2022, Enterprise Georgia (EG) and the SDC-funded Rural SMEs Development Project (RSMEDP) agreed to design and implement strategies to improve the promotion and targeting of the EG's Micro and Small Business Support Programme to linguistic minority groups in six municipalities.
An information campaign through local Armenian language media outlets and case studies of successful Armenian awardees reached nearly 9000 people in the target municipalities.  Support sessions were provided through local civil society organisations (CSOs) to help people understand the requirements of the programme and submit their applications.  Veronika participated in one session and this encouraged her to apply.  
"I was asking lots of questions. At first, it seemed impossible, but I did it… I won and extended my business. I bought a waffle maker, a refrigerator, an oven, and two types of mixers. The new equipment allowed me to reduce price and delivery time, which positively affected my business."
Veronika is now 27 years old. She continues to bake and decorate cakes for birthdays, holidays, weddings, and other important events in people's lives. She also continues to dream big – she wants to open a coffee shop and create employment opportunities for local youth.