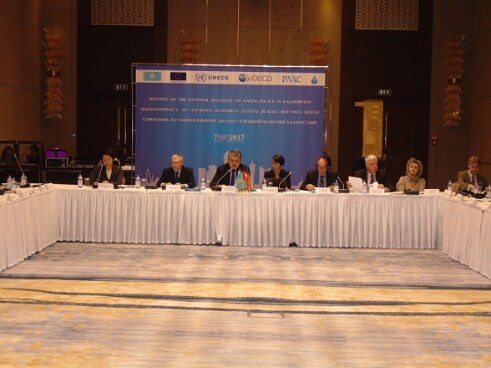 According to Ambassador SCHMID, the global water crisis can only be addressed by a truly Integrated Water Resources Management approach - as also called for in the Sustainable Development Goals (Goal 6.5) on the UN.
Ambassador SCHMID also mentioned the establishment by Central Asian countries of the "High Level Dialogue Platform on Integrated Water Resource Management". Last June, at the Blue Peace Central Asia Dialogue for 2030 Water Security and Inclusive Growthб co-hosted by Kazakhstan and Switzerland in Astanaб where the countries adopted initial proposals for the Platform's working structures and for its work program.
"The holding of the 8th session of Conference of Parties of the UNECE Water Convention scheduled for October 10-12, 2018, in Astana, and the presidency of Kazakhstan to this Convention during 2019 – 2021 will certainly contribute to develop and to foster a strong trans-boundary and regional cooperation", believes Ambassador SCHMID.