Welcome message by the Ambassador of Switzerland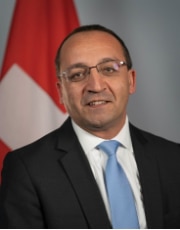 "Switzerland and Kazakhstan, two very different but much comparable countries with shared objectives for a better world at the same time. This joint endeavour and our mutual confidence are the foundation for our excellent bilateral relations and strong ties. I look forward to strengthening the relations between the peoples of our countries and to contributing to further deepening of our partnership and cooperation to tackle together today's and tomorrow's challenges."
Dear Visitor,
Welcome to the official website of the Embassy of Switzerland in Astana, in charge of the diplomatic and consular relations between my country and the Republicsof Kazakhstan. I invite you to discover our website and to open the various chapters where you will find information about the work of the Embassy.

My colleagues and I are here for you and we are happy to answer any questions you might have. Do not hesitate to visit our website regularly and to follow our Instagram account @swissembassykazakhstan

I wish you a nice day and best regards,

Salman Bal
Ambassador