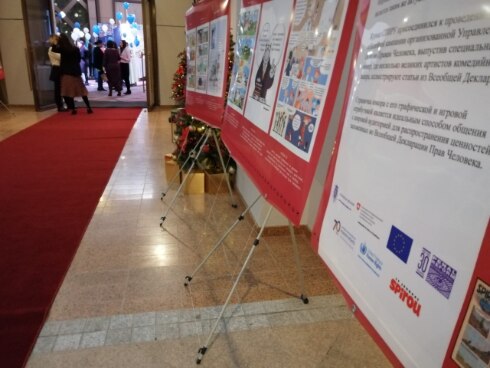 On the 10th of December 1948, the UN General Assembly adopted the Universal Declaration of Human Rights (UDHR). This milestone in human history is commemorated every year all over the world. Kazakhstan used the occasion to invite representatives of the government, international organizations, NGOs and Embassies to a Round Table entitled "Human rights – the basis for the harmonious development of society and the state". Also the Embassy of Switzerland attended this meeting, during which crucial issues like corruption, discrimination and gender-based violence were raised, echoing the recommendations given during the 3rd Universal Periodic Review (UPR) in November. 
On the same evening, the Human Rights Day, the 16 Days of Activism against Gender-Based Violence and the project Spirou4Rights / Kids4Rights were rounded off with a reception hosted by the European Union in the St. Regis Hotel in Nur-Sultan. In parallel to the 71st birthday of the UDHR, the Convention on the Rights of the Child celebrates its 30th anniversary this year. These two interconnected historic events were combined in the joint project Spirou4Rights, implemented by the Embassies of Belgium and Switzerland and the NGO Penal Reform International (PRI), and Kids4Rights, launched by the EU Delegation and co-organized by UNICEF, the Embassy of Belgium and the Embassy of Switzerland.
Spirou4Rights consisted of an exhibition of comics about HR that was brought to different schools and the Youth Palace in Nur-Sultan and Kids4Right was a drawing contest that invited school kids from all over Kazakhstan to paint their own drawing on a Human Right. Both the best drawings as well as the comics were exhibited for a last time during the reception in St. Regis and aroused general interest and appreciation.