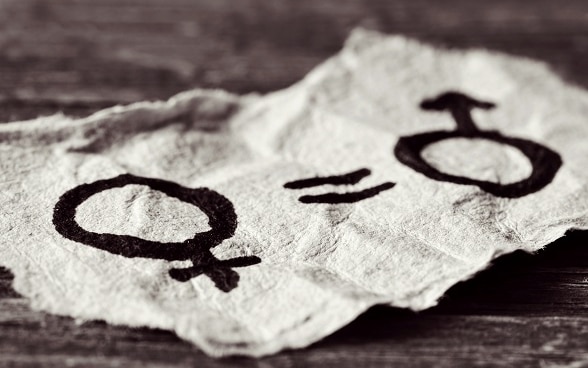 Despite progress made in achieving gender equality, there are still major disparities between women and men worldwide and in Switzerland itself. Moreover, women and girls are disproportionately affected by the impacts of humanitarian crises and conflicts, violent extremism and food insecurity. Now more than ever, therefore, the strategic priorities of Swiss foreign policy – peace, security, human rights, sustainable development and prosperity – concern women as agents of change and as a driving force in a world in transition.
With its Gender Equality and Women's Rights Strategy the Federal Department of Foreign Affairs (FDFA) seeks to underscore its long-standing commitment and create the means to make gender equality a vital element in every sphere of its activities. It has long been evident that gender equality and equal opportunities benefit both women and men. Gender equality and equal opportunities are prerequisites for reducing poverty, for economic growth and for sustainable development, to the benefit of all. This makes it all the more important that the international community, including Switzerland, put their values into practice and decisively support equal rights for all human beings. Switzerland's commitment to these goals is also anchored in the Federal Constitution.
The FDFA's Gender Equality and Women's Rights Strategy defines six strategic objectives. Along with strengthening the economic empowerment and political participation of women, the strategy aims to combat all forms of gender-based violence. It aims to strengthen women's rights with regard to their sexual and reproductive health, and make gender equality and women's rights a key component of all bilateral and multilateral activities. Importantly, it also seeks to ensure equal opportunities for women and men within the FDFA itself. For each of the strategy's objectives, concrete measures are formulated and will be reviewed regularly.
Switzerland bases its commitment on its profile and experience as a active political actor both in multilateral forums and its development policy. With its openness to dialogue and culture of compromise, Switzerland is internationally recognised as a bridge builder. It is currently undertaking numerous projects with the aim of promoting gender equality and women's rights. In Benin, for example, Switzerland supports women who stand for political office or membership in other decision-making bodies such as local health and water committees. In Bangladesh and Georgia Switzerland has invested in projects that economically empower women in rural areas in order to overcome barriers that hinder women's access to the market. In Libya since 2015, Switzerland has been committed to strengthening women's role in the political dialogue process Women's specific concerns are brought into the process through a representative body supported by Switzerland, that reflects the political, regional and social diversity of Libyan women. A further example of the FDFA's commitment is the Women's Human Rights application (W'sHR app), developed jointly in 2013 with the Swiss Centre of Expertise in Human Rights and regularly updated since. The app gives users easy access to a database containing the most important international documents on women's rights.
In implementing the new strategy, Switzerland will also engage in dialogue with civil society and seek to intensify its partnerships with the private sector.