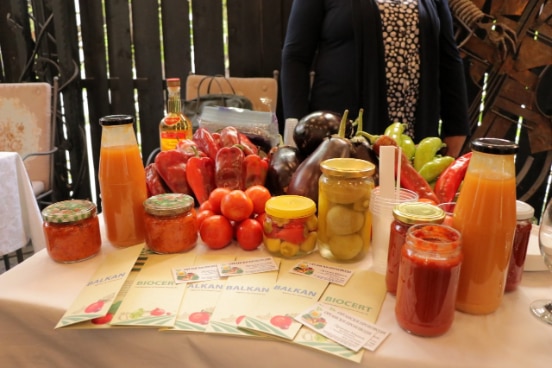 The Ambassador of Switzerland to the Republic of Macedonia, Sybille Suter, together with the Minister of Agriculture, Forestry and Water Economy, Ljupco Nikolovski, marked today in Skopje the end of the project "Consolidation of the Local Organic Certification Bodies - ConsCert". This Swiss supported project contributed significantly to the development of organic agriculture in Macedonia and towards better access of domestic organic food exporters to international markets.
Switzerland has supported the development of organic agriculture in Macedonia since its very beginning in the early 2000s. "Using its longstanding experience, Switzerland was among the first countries which supported the whole organic sector development in Macedonia. We have supported the establishment of the first organic cluster in Macedonia, and built capacities to organic producers as we see strong potential for the sector growth in the next years, thereby creating more jobs and more income for Macedonian farmers," stated Ambassador Suter at the closing event of the project.
Through the ConsCert project, Switzerland has supported local organic inspection bodies, governmental institutions and organic stakeholders in Macedonia to further develop the inspection systems, organic legislation, and to provide better services for organic operators. Now, organic producers from Macedonia can obtain internationally recognized certificates issued by the accredited local certification body - Balkan Biocert Skopje (BBCS). These certificates are integrated into the globally leading certificate database bioC and guarantee that Macedonian organic producers comply with the organic standards in main export markets, such as Switzerland and EU countries. Furthermore, Macedonian organic food exporters can access information on legal requirements and certification schemes relevant for exporting into different countries on the online platform launched with Swiss support in 2017.
The Minister of Agriculture, Forestry and Water Economy, Ljupco Nikolovski, said that "all project achievements are in line with the general strategy of the Ministry to foster the development of organic agriculture in Macedonia." He emphasized that although Macedonia advanced in terms of alignment of its law on organic agriculture with EU directives and has received a positive assessment in the recent EU Progress Report, the support from Switzerland in this sphere will continue to keep Macedonia among the front-runners in terms of organic production legislation development.
The Swiss supported ConsCert project was implemented in the period of 2014 to 2018 in Macedonia by the Swiss Research Institute of Organic Agriculture (FiBL).