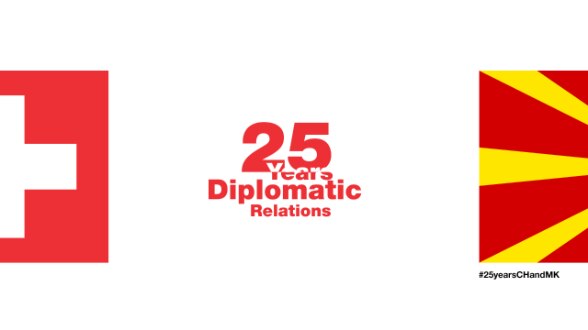 2019 marks a milestone in the relations between Switzerland and Macedonia, as the two countries celebrate the 25th anniversary of the establishment of formal diplomatic relations. On 31 January 1994, the Swiss and Macedonian governments exchanged official letters expressing their willingness to establish full diplomatic and consular relations. In 2019, Switzerland and Macedonia look back at 25 years not only of partnership and cooperation, but also of strong friendship between their people.
Today Switzerland ranks among Macedonia's largest bilateral cooperation partners. In the last 25 years, Switzerland has invested over 260 million Swiss francs in projects in order to support Macedonia in its reforms to meet European standards and build a socially-inclusive democracy, to create jobs and support sustainable economic growth, as well as to improve infrastructure and public services and ensure sound governance of natural resources. This support is grounded in Switzerland's tradition of solidarity and responsibility, and reflects the importance that Switzerland places on the stability and the prosperity of the Western Balkans.
The presence of a large diaspora from Macedonia in Switzerland helps further strengthen ties between the two countries. Today, this group of more than 80.000 men and women makes a significant contribution to Switzerland's success and prosperity. Some members of the diaspora in turn make a contribution to their country of origin by transferring the experience they gained in Switzerland to Macedonia. Trade and investments also link our two countries. More than 40 Swiss companies have invested and are doing business in Macedonia, and there is room for bilateral economic exchanges to further grow.
Switzerland is recognized for its unique expertise and experience in areas such as democratic governance, innovation, vocational education and training, and environmental protection. Deployed adequately, Swiss know-how can also make a difference to the quality of peoples' lives in Macedonia. Switzerland is committed to further support Macedonia in its reforms and development efforts in the years to come.