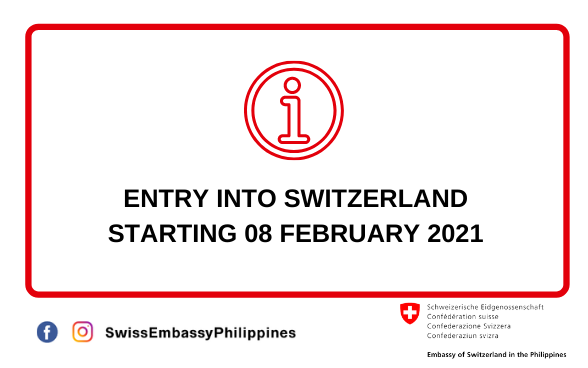 Entry into Switzerland starting 08 February 2021
Persons arriving in Switzerland by plane must prove that they have had a molecular biological analysis test for SARS-CoV-2 (PCR Test Covid-19) done within the last 72 hours and that the result of the test was negative. We therefore ask you to take into account the travel and transfer times as well as the time difference.You must be able to show proof of your negative test already while boarding. Without a negative test result you are not allowed to board the aircraft.
The result of a rapid antigen test is not sufficient in order to enter Switzerland.
Children under the age of 12 are not subject to the testing requirement and do not need proof of a negative test result. 
Electronic form for incoming travelers
Starting 8 February 2021 you must send your contact information electronically when you are entering Switzerland, using this form for incoming travelers. 
You can fill out the electronic entry form on a computer or smartphone before or during travel. Once you have filled out the form you will receive a QR code by e-mail as confirmation Have this code ready for inspection when you enter Switzerland. If you are controlled you can show the QR code on your smartphone or produce a printed confirmation.
If you are unable to complete the entry form online: You can either ask for the paper version of the form from the airline staff before boarding or you can print out the paper version of the entry form and fill it in 
For more information, please consult the website of the Federal Office of Public Health: 
******
Einreise Schweiz ab 08. Februar 2021
Personen, die mit dem Flugzeug in die Schweiz einreisen, müssen nachweisen, dass sie sich innerhalb der letzten 72 Stunden mit einer molekularbiologischen Analyse auf Sars-CoV-2 (PCR Test Covid-19) haben testen lassen und das Ergebnis des Tests negativ ausgefallen ist. Wir bitten Sie deshalb, die Reise- und Umsteigezeiten sowie die Zeitverschiebung zu berücksichtigen.Sie müssen das negative Testresultat bereits beim Boarding vorweisen können. Ohne negatives Testresultat dürfen Sie nicht ins Flugzeug.
Das Resultat eines Antigen-Schnelltests ist für die Einreise in die Schweiz nicht zulässig.
Kinder unter 12 Jahren brauchen kein negatives Testresultat, sie sind von der Testpflicht ausgenommen.
Elektronisches Einreiseformular
Ab 8. Februar 2021 müssen Sie Ihre Kontaktdaten elektronisch übermitteln, wenn Sie in die Schweiz einreisen. Das entsprechende Einreiseformular ist verfügbar unter.
Sie können das elektronische Einreiseformular vor oder während der Reise über einen Computer oder über das Smartphone ausfüllen. Sobald Sie das Formular ausgefüllt haben, erhalten Sie als Bestätigung einen QR-Code per Mail. Halten Sie diesen Code für Kontrollen bei der Einreise bereit. Bei Kontrollen können Sie den QR-Code auf dem Smartphone vorweisen oder eine ausgedruckte Bestätigung zeigen.
Falls Sie das Einreiseformular nicht online ausfüllen können: Verlangen Sie bitte vorher eine Papierversion des Formulars beim Personal der Fluggesellschaft oder Sie drucken die Papierversion des Einreiseformulars aus und füllen diese aus.
Für weitere Informationen konsultieren Sie bitte die Webseite des Bundesamts für Gesundheit.
*******
Entrée en Suisse à partir du 08 février 2021
Les personnes entrant en Suisse en avion doivent prouver qu'elles se sont fait tester dans les dernières 72 heures par une analyse de biologie moléculaire pour le SARS-CoV-2 (PCR Test Covid-19) et que le résultat du test s'est avéré négatif. Nous vous demandons donc de prendre en compte les temps de trajet et de transfert ainsi que le décalage horaire.Vous devez pouvoir présenter un résultat de test négatif au moment de l'embarquement, sinon vous ne serez pas autorisé à monter à bord. 
Le résultat d'un test rapide antigénique n'est pas accepté pour l'entrée en Suisse.
Les enfants de moins de 12 ans ne doivent pas présenter de résultat négatif à un test, ils sont exemptés du test obligatoire. 
Formulaire d'entrée électronique
À partir du 8 février 2021, vous devez transmettre vos coordonnées en ligne avant d'entrer en Suisse. Le formulaire électronique nécessaire à cet effet est disponible.
Vous pouvez remplir le formulaire électronique avant ou pendant votre voyage en utilisant un ordinateur ou un smartphone. Dès que vous l'aurez rempli, vous recevrez un code QR par courriel. Conservez ce code sous la main pour pouvoir le présenter lors de l'entrée en Suisse. Lors du contrôle, vous pouvez afficher le code QR sur votre smartphone ou présenter une confirmation imprimée.
Si vous ne pouvez pas remplir le formulaire d'entrée en ligne: Vous pouvez demander la version papier du formulaire au personnel de la compagnie aérienne avant de monter à bord de l'avion. Vous pouvez également imprimer la version papier du formulaire d'entrée et le remplir 
Pour plus d'informations, veuillez s'il vous plait consulter le site internet de l'Office fédéral de la santé publique.