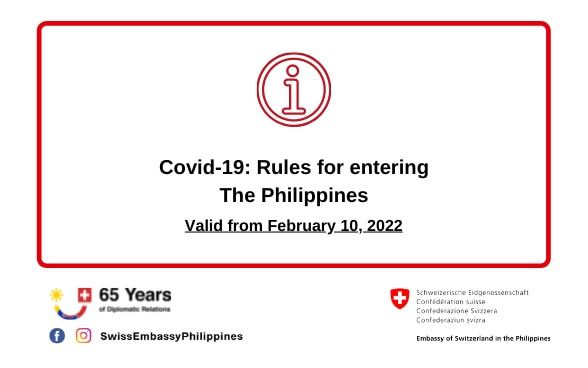 As of February 10, 2022, foreign nationals traveling to the Philippines for business and tourism purposes may enter the Philippines without visas, provided:

they are a citizen/national of the countries entitled to a stay not exceeding thirty (30) days (Advisory Bureau of Immigration, Annex A);
they are fully vaccinated;
they carry/possess an acceptable proof of vaccination according to the competent Philippine authority's requirements;
they present a negative RT-PCR test taken within forty-eight (48) hours prior to the date and time of departure from the country of origin/first port of embarkation in a continuous travel to the Philippines;
have valid tickets for their return journey to the port of origin or next port of destination not later than 30 days from the date of arrival in the Philippines;
have passports valid for a period of at least six (6) months at the time of arrival to the Philippines; and
obtain, prior to arrival, a travel insurance for COVID-19 treatment costs from reputed insurers, with a minimum coverage of USD 35,000.00 for the duration of their stay in the Philippines.
For more details, please refer to Resolution No. 160-B of the Inter-Agency Task Force for the Management of Emerging Infectious Diseases.
Visa-free foreign nationals who fail to fully comply with the conditions and requisites set above shall be denied admission into the country and shall be subject to the appropriate exclusion proceedings.
For further information and updates, please consult any available information by the Philippine Government, for instance the website of the Bureau of Immigration BI, BI Facebook page or the Embassy of the Philippines in Bern.
For reasons of competence, the Embassy of Switzerland in Manila assumes no responsibility for the correctness, completeness and timeliness of any information relating to the entry into the Philippines.