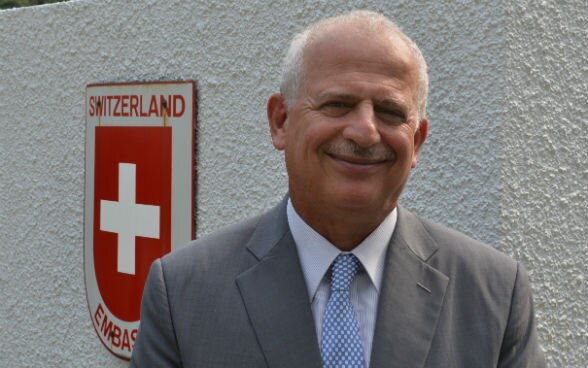 Dear Visitors,
Welcome to the website of the Embassy of Switzerland in Singapore.
Switzerland and the Republic of Singapore have maintained excellent ties for many years, even before the establishment of diplomatic relations on 11 October 1967. Geographic distance notwithstanding, Switzerland and Singapore have developed strong political, economic, financial, scientific, educational and cultural links. Today, approximately 5000 Swiss live in Singapore, with about 350 Swiss companies present here.
The growing economic and financial cooperation between Switzerland and Singapore is underscored by Singapore being Switzerland's main trading partner in South-East Asia and Switzerland being the fifth largest investor in Singapore.
The visit of Singapore President Tony Tan to Switzerland in May 2014 was an important highlight in the excellent bilateral relations between the two countries.
Our consular section provides services for all the Swiss living in Singapore as well as visas for the travellers from Singapore.
The activities of the Embassy are supported by the following platforms and in-house agencies:
The Swiss Business Hub ASEAN, a network partner of Switzerland Global Enterprise, is located at the Embassy and works towards the advancement of Swiss exports to Singapore and the ASEAN region. The Swiss Business Hub also provides information and assistance to Singaporean firms interested in setting up businesses in Switzerland.
Switzerland Tourism promotes tourism to Switzerland within the ASEAN region.
More information on the above-mentioned activities and Swiss community, as well as the different services of the Embassy (e.g. consular assistance and visa requirements), are provided on this website. For further information, please contact us at sin.vertretung@eda.admin.ch
I wish you a pleasant exploration of the site.

Thomas Kupfer

Ambassador of Switzerland