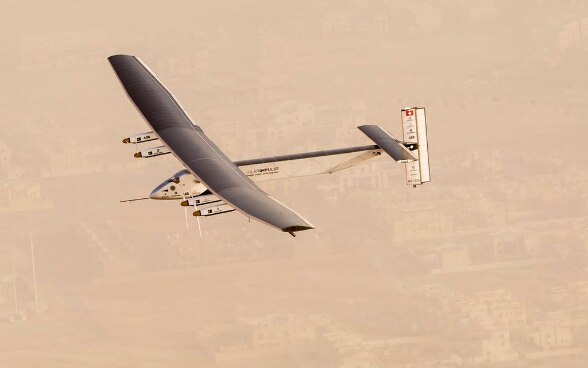 Since the inception of the Solar Impulse project in November 2003, the following Swiss bodies in particular have supported it: the EPFL, the DDPS, DETEC, the FDF through the FOBL, Meteosuisse and the FDFA. Through this collaboration with the Swiss Federal Institutes of Technology and Swiss companies, Switzerland as a whole is represented in this aircraft – a symbol of an innovative nation in terms of sustainable development and environmental protection.
"I applaud this pioneering venture, which will show our younger generations that a world we thought impossible to attain is now within our grasp. Progress and respect for our planet. That is the message Switzerland is giving with Solar Impulse," declared Federal Councillor Didier Burkhalter, head of the FDFA.
Ambassador Nicolas Bideau, head of Presence Switzerland, was in Abu Dhabi to see Solar Impulse take off on its voyage. Swiss representations abroad (embassies, consulates, swissnex offices) have planned a number of events in the course of the next few weeks, in particular in those countries where the aircraft will land. Solar Impulse is not only an adventure, a challenge and an attempt at something new: it is a tremendous opportunity to showcase our whole country.
---
Further information:
Solar Impulse
Solar Impulse (Presence Switzerland)
Discovery Projects EPFL

---
Address for enquiries:
Information FDFA
Bundeshaus West
CH-3003 Bern
Tel.: +41 58 462 31 53
Fax: +41 58 464 90 47
E-Mail: info@eda.admin.ch
---
Publisher: