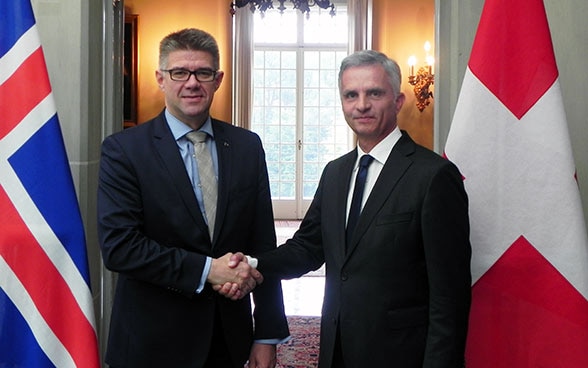 Mr Burkhalter received Mr Sveinsson at the Von Wattenwyl House. After a one-on-one meeting, the two ministers attended a working breakfast with their delegations.
Besides bilateral relations, Mr Burkhalter and Mr Sveinsson discussed Switzerland's and Iceland's policies on the EU. Specifically, Mr Burkhalter explained to Mr Sveinsson the Federal Council's intention to implement the results of the popular vote of 9 February 2014 and Switzerland's desire to control migration more effectively while maintaining the bilateral approach with the EU. The bilateral approach has been approved by the Swiss electorate several times in recent years. 
Switzerland and Iceland are members of the European Free Trade Association (EFTA), an intergovernmental organisation that aims to promote free trade and economic integration for the benefit of its four member states: Iceland, Liechtenstein, Norway and Switzerland. One of EFTA's priorities is the conclusion of free trade agreements with third states.
Mr Burkhalter and Mr Sveinsson also discussed current challenges in the Arctic region, international negotiations on climate protection and sustainable development, and various topical international issues. Concerning the Ukraine crisis, Mr Burkhalter reiterated Switzerland's continued support for the efforts of the Organization for Security and Co-operation in Europe to secure a political solution. The two delegations also conferred about the fight against terrorism.
---
Further information:
Bilateral relations between Switzerland and Iceland
EFTA

---
Address for enquiries:
Information FDFA
Bundeshaus West
CH-3003 Bern
Tel.: +41 58 462 31 53
Fax: +41 58 464 90 47
E-Mail: info@eda.admin.ch
---
Publisher: