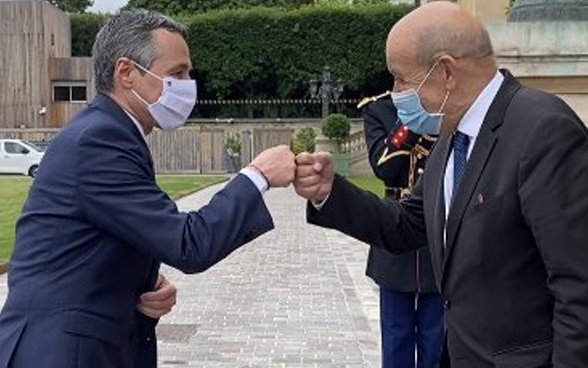 At his meeting with Jean-Yves Le Drian, head of the Federal Department of Foreign Affairs Ignazio Cassis expressed the Federal Council's wish to continue Switzerland's partnership with the EU on the basis of the bilateral agreements. To this end, Switzerland has proposed to the EU that a political dialogue be initiated with a view to identifying and exploring shared priorities for future cooperation. The Federal Council also wishes to continue cooperation in a number of well-established areas.
A range of international issues were also on the ministers' agenda for the working dinner, including the recent trip to sub-Saharan Africa by the Head of the FDFA and the situation in Mali. Federal Councillor Ignazio Cassis described the work undertaken by Switzerland in the Sahel region. The two ministers also discussed the situation in Libya, looking forward to their participation in the Berlin conference on Libya on 23 June.
Strong bilateral and cross-border relations
Mr Cassis' visit to Paris is a demonstration of Switzerland's commitment to strengthening bilateral relations with France. Switzerland and France enjoy extremely close economic, human and cultural ties. During the visit, both the quality of bilateral relations and the scope and intensity of cross-border cooperation were emphasised, particularly against the backdrop of the COVID-19 pandemic. Mr Cassis and Mr Le Drian also addressed employment law issues in relation to the Swiss sector of Basel-Mulhouse Airport as well as the question of the governance of the Rhone waters.
---
Further information:
Bilateral relations Switzerland–France

---
Address for enquiries:
FDFA Communication
Federal Palace West Wing
CH-3003 Bern, Switzerland
Tel. Communication service: +41 58 462 31 53
Tel. Press service: +41 58 460 55 55
E-mail: kommunikation@eda.admin.ch
Twitter: @SwissMFA
---
Publisher: