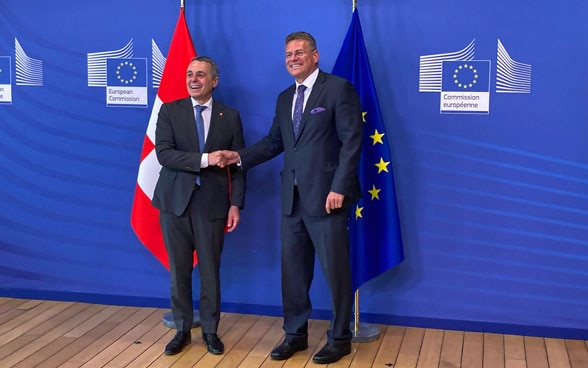 The visit forms part of the regular exchanges between Mr Cassis and Mr Šefčovič since the latter's visit to Bern in March.

Mr Cassis and Mr Šefčovič took note of the progress made in the discussions held by the Swiss and EU delegations at technical and diplomatic level. They addressed the outstanding issues and the efforts required to resolve them over the coming months.  

Against this backdrop, Mr Cassis reaffirmed Switzerland's determination to bring these discussions to a successful conclusion and to find solutions capable of generating a broad support among the main stakeholders in Switzerland with a view to adopting a negotiating mandate.

Mr Cassis and Mr Šefčovič also reaffirmed their commitment to continue providing positive momentum to the process. They agreed to maintain regular contact.

Switzerland will pursue its discussions with the EU on the basis of the parameters of a negotiating mandate approved by the Federal Council on 21 June. The Federal Council will reassess the situation again in the autumn.
---
Address for enquiries:
FDFA Communication
Federal Palace West Wing
CH-3003 Bern, Switzerland
Tel. Press service: +41 58 460 55 55
E-mail: kommunikation@eda.admin.ch
Twitter: @SwissMFA
---
Publisher: